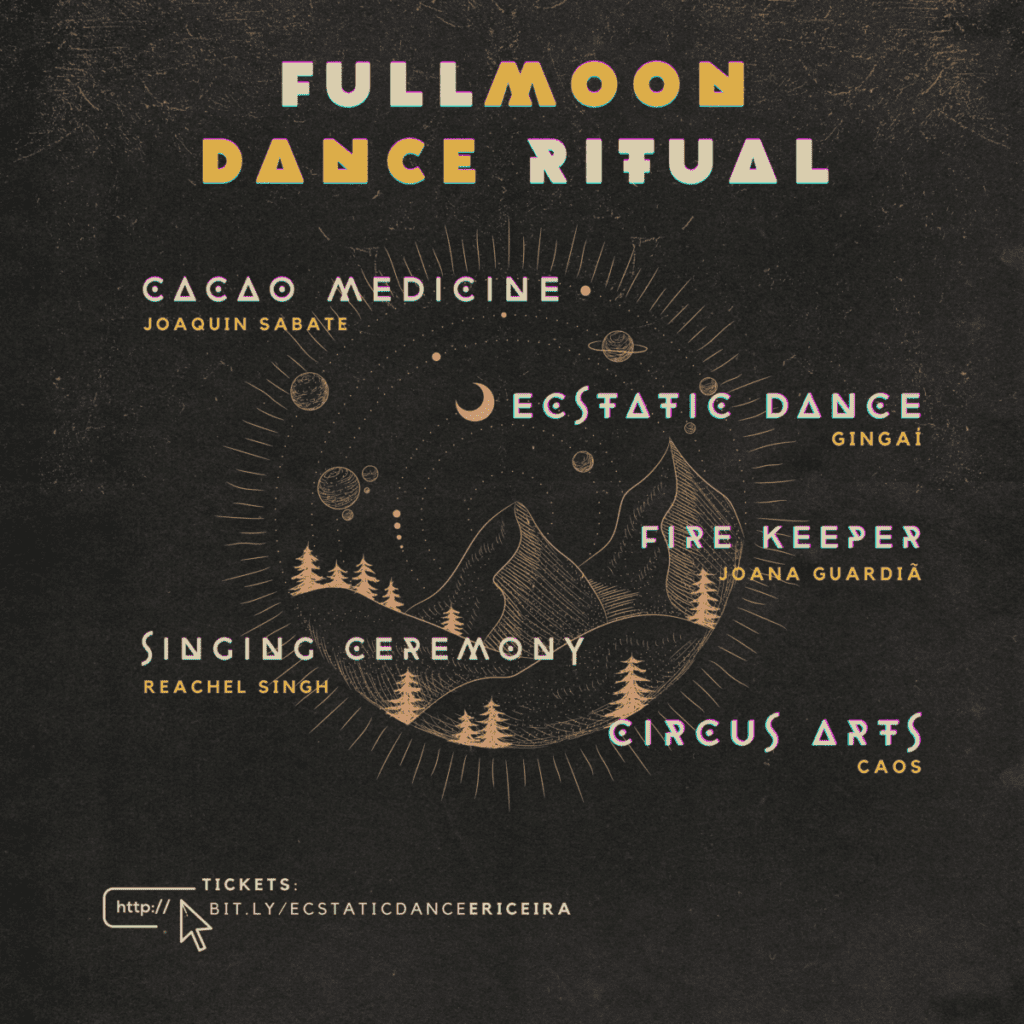 tickets: bit.ly/ecstaticdanceericeira
𝗘𝗖𝗦𝗧𝗔𝗧𝗜𝗖 𝗗𝗔𝗡𝗖𝗘 𝗘𝗥𝗜𝗖𝗘𝗜𝗥𝗔
in collaboration with
𝗘𝗖𝗦𝗧𝗔𝗧𝗜𝗖 𝗗𝗔𝗡𝗖𝗘 𝗣𝗢𝗥𝗧𝗢
Join us for a beautiful experience in Nature to celebrate and explore movement, playfulness and connection! To harness the ancestral medicine of cacao in order to potentiate individual and collective growth and to put all of that momentum into motion through a 🎧silent disco ecstatic dance experience, as the sun sets over the Atlantic Ocean before you 🌊This event is a safe container to open our hearts in playful dynamics without filters or masks and be met with non-judgement, loving presence, and empathetic resonance.
Where and when:
📍 Secret location, Ericeira
🕓 16th of April, from 15:00 to 22:00
✨
The program includes:
✦ ☾ ✹ 𝗖𝗔𝗖𝗔𝗢 𝗦𝗛𝗔𝗥𝗜𝗡𝗚 𝗖𝗜𝗥𝗖𝗟𝗘
with 𝗝𝗼𝗮𝗾𝘂𝗶𝗻 𝗦𝗮𝗯𝗮𝘁𝗲
Our ceremonial cacao is 100% cacao paste of the highest quality made from heirloom strains native to South America (Bio, Raw and Fair Trade).
We commune with its alchemizing essence to awaken the magic of the heart. Here, we hold a safe space for connection, questions, insights, empowerment, self-awareness and vulnerability, always linked to the elements of Nature and the spirit of the cacao plant.
We drink together from this source of wisdom with respect for the ancestral tradition, and we take this moment of reverence to set an intention for the experience, opening ourselves to receive its energetic, alchemical guidance in releasing what doesn't serve us anymore, to open ourselves to all our true value and potential.
————
✦ ☾ ✹ 𝗘𝗖𝗦𝗧𝗔𝗧𝗜𝗖 𝗗𝗔𝗡𝗖𝗘 with 𝗖𝗜𝗥𝗖𝗨𝗦 𝗔𝗥𝗧𝗦 𝗣𝗘𝗥𝗙𝗢𝗥𝗠𝗔𝗡𝗖𝗘
by 𝗚𝗶𝗻𝗴𝗮í and 𝗖𝗔𝗢𝗦
Embody your divine nature on a journey back to your center. Move and flow with this energy in community, to witness, be witnessed, and to remind ourselves of the beauty that we are! Celebrate together, connect to your body's knowledge and be free to allow your inner child to be liberated.
As the sun sets over the ocean before your eyes, dusk takes over the daylight and your ecstatic dance journey is climaxing. For the circus arts performers at CAOS, this is a delicious opportunity to do their magic: they will bring their dance show combined with ancestro-futuristic illusionism for a mesmerizing choreographed visual LED performance that will be remembered for a lifetime.
———–
✦ ☾ ✹ 𝗞𝗜𝗥𝗧𝗔𝗡 𝗦𝗜𝗡𝗚𝗜𝗡𝗚 𝗖𝗜𝗥𝗖𝗟𝗘
by 𝗥𝗲𝗮𝗰𝗵𝗲𝗹 𝗦𝗶𝗻𝗴𝗵
More info soon.
✨
IMPORTANT INFO
☾ We are limited to 40 participants, so be sure to grab your spot early on!
☾ If you want to be super comfortable, bring warm clothes for the nighttime and a yoga mat.
☾ Food isn't included in the ticket but there will be delicious vegan meals available for dinner, kombucha and snacks.
☾ If at the date of the event you have flu-like symptoms or if you have been with someone who presented these symptoms, please take the responsibility to not join this event.
We are delighted you chose to join us for this co-creation of a free, ecstatic and loving celebration of life.
tickets: bit.ly/ecstaticdanceericeira