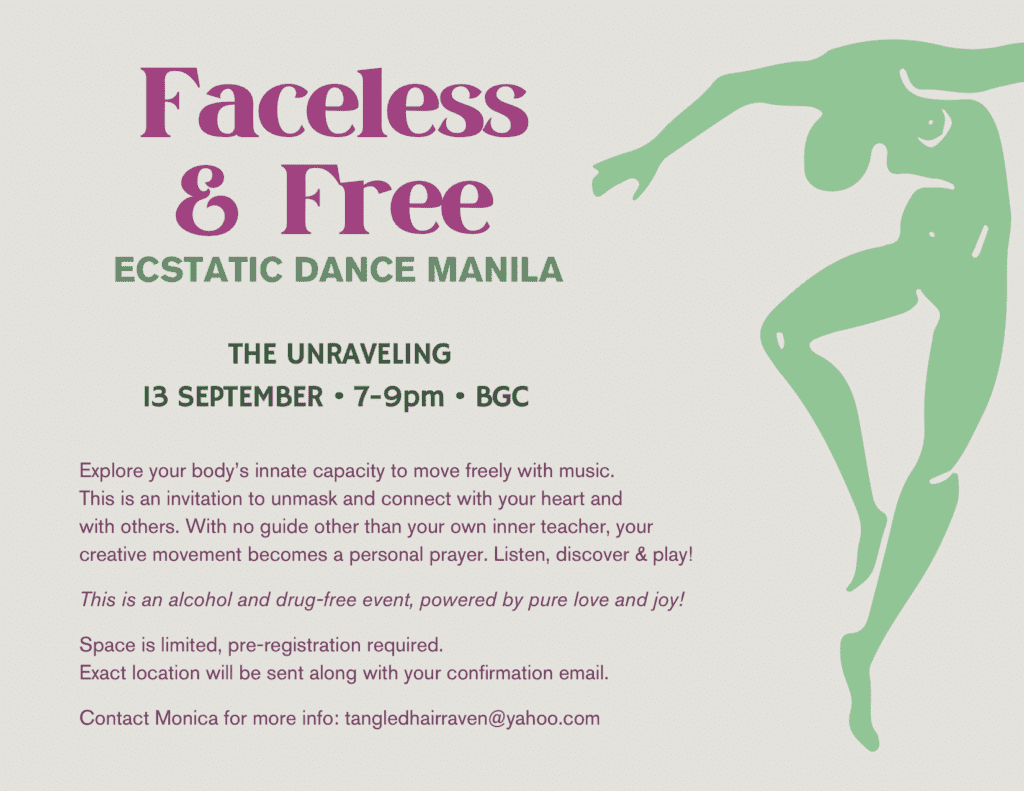 Faceless and Free: Ecstatic Dance Manila
🇵🇭 This is the first Ecstatic Dance in the Philippines 🇵🇭

Explore your body's innate capacity to move freely with music. This is an invitation to unmask and connect with your heart and with others.
With no guide other than your own inner teacher, your creative movement becomes a personal prayer.
Listen, discover & play!
Ecstatic Dance is a safe space: This is a non-judgemental circle that encourages everyone to be fully in their bodies through the freedom of spontaneous movement. 
Ecstatic Dance is a sacred space: We are free of spiritual dogma, celebrating one common thing- the language of our bodies. No alcohol and no drugs.
Ecstatic Dance is a place for connection: Be in your own body or dance with others. See what sparks are reignited in you, and what you can co-create with others.
We begin the evening with a short intro about the practice and what to expect for the evening. Then we will do a fun, short warm up to energetically and physically arrive in the space. Our dance begins right after. We will close with a short sharing circle before we end the night.
This is an alcohol and drug-free event, powered by pure love and joy.
Every body and all genders welcome!
Space is limited to 25 attendees due to the size of the venue, so pre-registration is required.
Cost: 200 Philippine Pesos, please bring cash
Event will be held in an indoor space in Bonifacio Global City, Taguig (BGC). Exact location will be sent along with your confirmation email.
Contact Monica for more info: tangledhairraven@yahoo.com
To be confirmed because of space capacity; Please email for details
Philippine Pesos 200 (cash)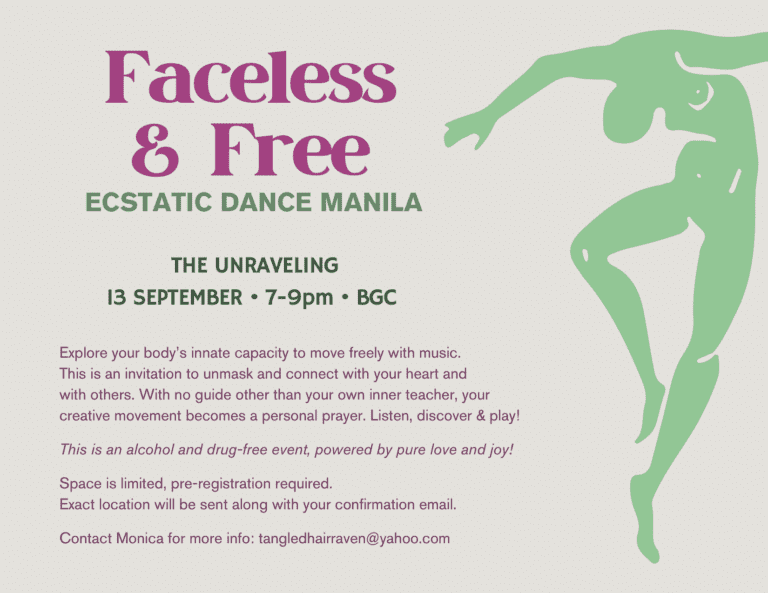 Monica
September 13, 2023
Faceless and Free
Ecstatic Dance – 3 Simple Guidelines
1. We Dance without shoes (or: We Dance Barefoot)
This allows us to connect more fully with the Ground (socks are OK)
If you have a physical condition that you need dance shoes, then OK
2. We Dance without words (or: We Dance with Body Language)
This makes it easier to be in a Meditative State
No Verbal Instruction from the Facilitators
Minimize Talking from the Dancers
3. We Dance as We Are
No Drugs/Alcohol, No Phones, No Camera/Video, No Expectations, No Judgements, No Shoulds, No Oughts… Just Be Yourself; With Respect for Ourselves, the Space, and One Another.