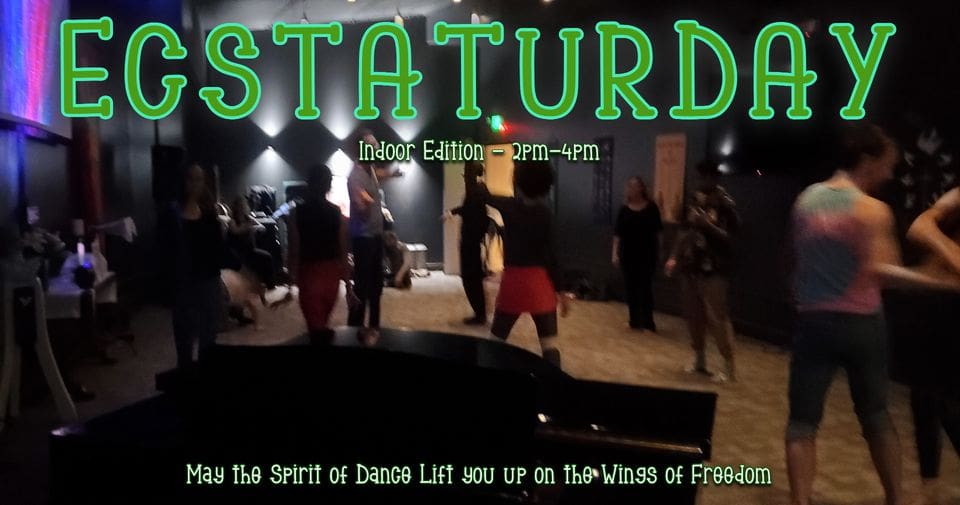 Ecstaturday Indoor Edition: Soaking up the Bass (Feat. MEHRŸA)
Due to the wet ground and risk of rain, we will be dancing in our second home at St. Paulus Church in Russian Hill. Its a GREAT space with an AMAZING sound system and a soft dance floor. Come get to know our home away from home, enjoy the space, connect with community, and explore some new dance moves!
This week we will be featuring MEHRŸA, one of my favorite guest DJs. Come and bring a friend!
2pm – Arrival and Opening Circle
2pm-4pm – Ecstaturday Dance
4pm – Closing Gratitude Circle
———————————————
Rooted in Ecstatic Dance principles, we feature spirited beats for your auditory pleasure in a spacious and beautiful outdoor grassy setting. We gather and co-create a grounding dance space to move and shake ourselves and our expectations. We strive to connect inward and outward to provide an opportunity for dancers to move their bodies and souls to the music.
Etiquette: No shoes, no talking, no alcohol, no phones, no judgements and no worries.
*While talking isn't forbidden, please respect dancers tuned into the music and their own flow. Take your conversations outside of the dance space.*
*Ask for consent and give people space before engaging since many attendees approach this free dance with different levels of contact comfortability.*
Pro Tips: Bring your own blanket, snacks, and maybe even an offering to the community.
May the Spirit of Dance lift you up on the Wings of Freedom
Donations greatly appreciated, and no one will be turned away for lack of funds.
Venmo: @Ecstaturday
Paypal: Ecstaturday@gmail.com
2325 Polk St, San Francisco, CA 94109
Ecstatic Dance – 3 Simple Guidelines
1. We Dance without shoes (or: We Dance Barefoot)
This allows us to connect more fully with the Ground (socks are OK)
If you have a physical condition that you need dance shoes, then OK
2. We Dance without words (or: We Dance with Body Language)
This makes it easier to be in a Meditative State
No Verbal Instruction from the Facilitators
No Talking from the Dancers
3. We Dance as We Are
No Drugs/Alcohol, No Phones, No Camera/Video, No Scents, No Expectations, No Judgements, No Shoulds, No Oughts… Just Be Yourself; With Respect for Ourselves, the Space, and One Another.