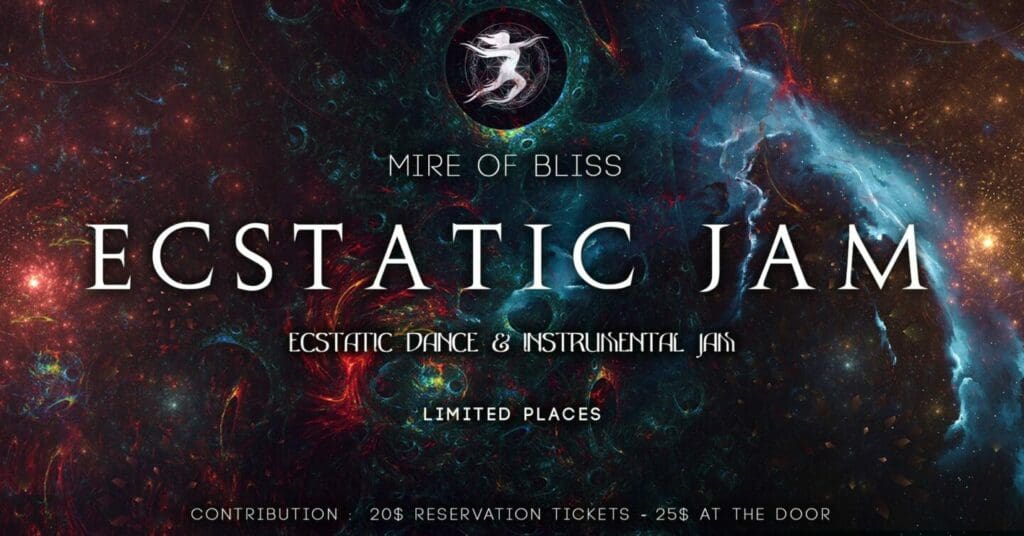 Ecstatic Jam - Mire of Bliss
You are invited to the next ECSTATIC JAM! ♡ A combination of ecstatic dance and instrumental jam, a space for artistic co-creation fusing rhythm, melody and authentic movement.
"The soul can only be present when the body and the spirit are one" (Gabrielle Roth).
With this intention, Let's explore the deep self: let's dance, let's leave words outside of the dancefloor and express the creative intelligence of our body. Let's explore mindfulness as the soul's path towards love and the universe.
❃❃❃❃❃❃❃
✤ Schedule :
6:30 p.m. : Welcome
6:45 p.m. : Opening of the space, circle and cacao
7:15 p.m. : Ecstatic Jam ( dance with live Dj & instrumental jam)
9:30 p.m. : Sharing circle and closing
✤ Contribution :
$20 – Reservation in advance : https://bit.ly/3ZIKF9D
$25 – At the door
✤ Guidelines :
– LIMITED Tickets, please book in advance to ensure your place, they go fast!
– Please arrive on time to open the circle and start the journey together
– Bring your water bottle and towel if necessary
– Drug and alcohol free space, many thanks for respecting it.
❃❃❃❃❃❃❃
MIRE OF BLISS is a collective that arises from the abundance of love and life. And from the desire to create sacred spaces of openness, freedom, self-exploration and connection with the community.
With great pleasure to take flight with you!

Mire of Bliss
First Saturday of the month
372 Saint-Catherine St W, Montreal, Quebec H3B 1A2
Ecstatic Dance – 3 Simple Guidelines
1. We Dance without shoes (or: We Dance Barefoot)
This allows us to connect more fully with the Ground (socks are OK)
If you have a physical condition that you need dance shoes, then OK
2. We Dance without words (or: We Dance with Body Language)
This makes it easier to be in a Meditative State
No Verbal Instruction from the Facilitators
No Talking from the Dancers
3. We Dance as We Are
No Drugs/Alcohol, No Phones, No Camera/Video, No Scents, No Expectations, No Judgements, No Shoulds, No Oughts… Just Be Yourself; With Respect for Ourselves, the Space, and One Another.