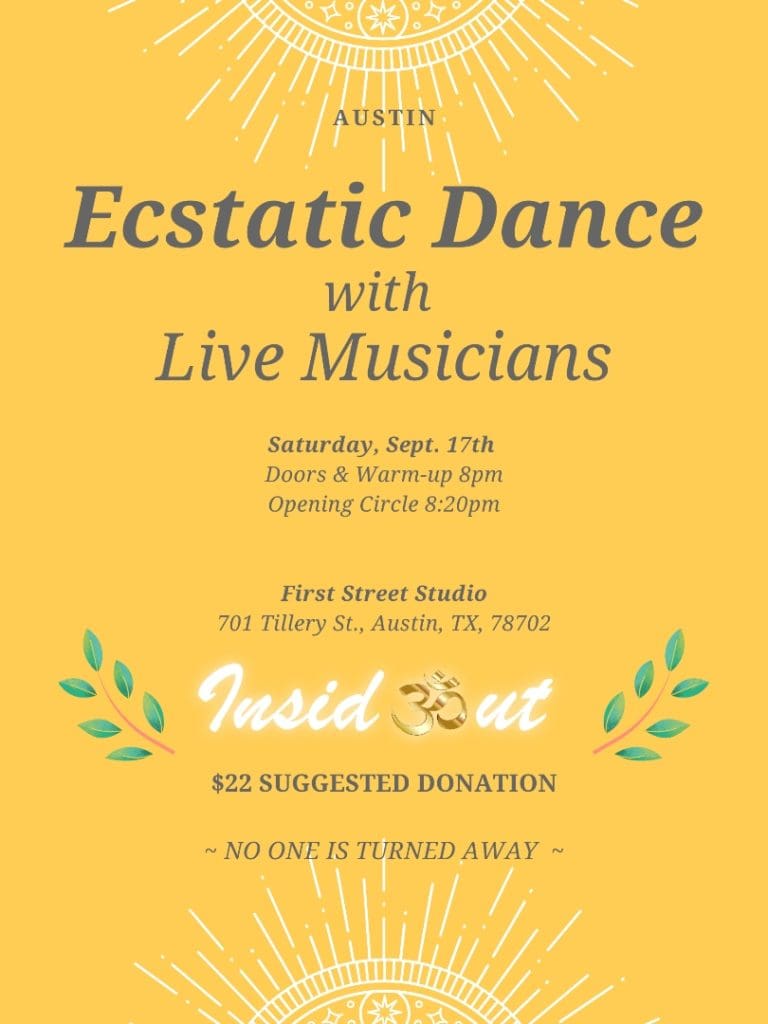 Ecstatic Dance with Live Musicans
S A T U R D A Y
September 17th
8pm to 10pm
We will once again be holding space in a non-judgmental container to express yourself from the insideout.
There will be Live Musicians playing soul-activating vibrations with their instruments to help guide you throughout the movement journey.
Through conscious movement, you can explore your authentic feelings and safely express them without hiding or holding back. You can experience setting healthy boundaries in your muscles and bones, and feel more empowered to set them in other areas of your life.
Come out to experience this opportunity to be one with the body and connect with a community radiating light and love.
"When I am dancing, it feels like my prayer. It's like an offering. I offer my head back to the dance, I offer my shoulders back to the dance, my elbows, my hands, my spine, my knees, my feet, my whole self, my bones, my blood, my experience, my suffering… I offer it all back to the dance and I say: take it, do whatever you want with me. Release me."
-Gabrielle Roth
701 Tillery Street Suite, Austin, TX 78702
Ecstatic Dance – 3 Simple Guidelines
1. We Dance without shoes (or: We Dance Barefoot)
This allows us to connect more fully with the Ground (socks are OK)
If you have a physical condition that you need dance shoes, then OK
2. We Dance without words (or: We Dance with Body Language)
This makes it easier to be in a Meditative State
No Verbal Instruction from the Facilitators
No Talking from the Dancers
3. We Dance as We Are
No Drugs/Alcohol, No Phones, No Camera/Video, No Scents, No Expectations, No Judgements, No Shoulds, No Oughts… Just Be Yourself; With Respect for Ourselves, the Space, and One Another.