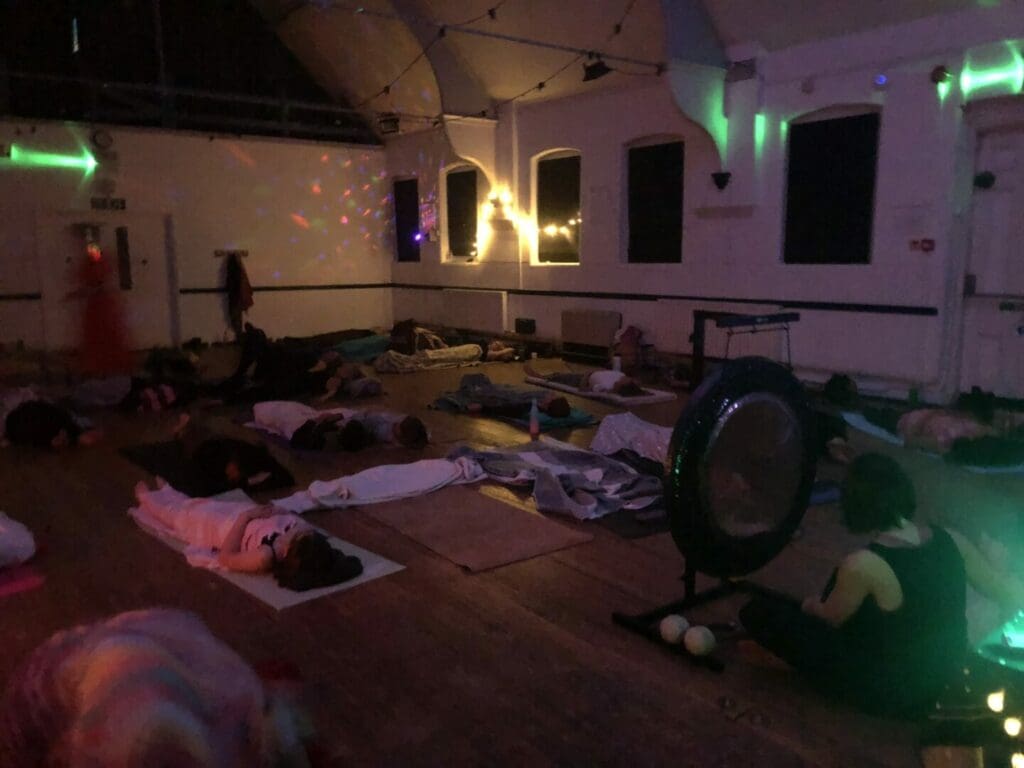 Ecstatic Dance Whitstable
Ecstatic Dance is all about dancing like no one is watching you; dancing without the judgment of others and dancing without limits.
What to Expect
A warm welcome with an energising Siberian Ginseng Tea
An opportunity to land in the space and inwardly set intentions
A short warm up to lead you in to the dance
A conscious and diverse musical journey with a range of tempos. With a great soundsystem and live DJ
Vibrant people who love dancing!
A relaxing crystal bowl soundbath to ground and relax you after dance
Opportunty to stay for optional tea
This is a free form/freestyle dance and movement meditation with no expections or choreography. This is a natural state in which your awareness shifts and you get to experience a meditative and happy state of mind through body movement.
There will be amazinging musical rhythms that will keep you dancing from beginning to end. No prior experience is needed. All are welcome.
The good thing about Ecstatic Dance is that there are no expectations. No experience is required. You dance however you feel comfortable, without judgment.
There are only a few things to bear in mind when you're joining an Ecstatic Dance.
Please, no talking during the main dance. You can talk in the foyer area or kitchen
Move however you wish, respect yourself and those around you
Drug-Free, Smoke-Free, Alcohol-Free environment
No photos or videos, Mobile phones muted and out of sight
No spectating
Shoes off to stay grounded
This is a journey from start to finish. Please arrive by 2.30pm at the latest. The doors will be locked and unfortunately there will be no entry after this point.
WHAT TO BRING
Comfortable clothes that you can move in
A bottle of water
Bring an optional Yoga Mat and Blanket for the Sound Bath. You'll be lying down, and your body temperature will drop as you relax, which is why a blanket is recommended.
Children are very welcome but please be mindful not to disrupt other dancers.
You may want to bring a snack.
2.00pm Welcome – Doors Open – Energising Caffiene Free Tea
2:30pm Warm up, breathing, grounding.
3.00pm Dance with Live DJ
4.30pm Meditation with Sound Bath
5.00pm Finish. Optional Tea will be Available after the dance.
Whitstable umbrella centre
DJCharlotteODonachie
July 28, 2023
DJHannahAnanda
June 2, 2023
Ecstatic Dance – 3 Simple Guidelines
1. We Dance without shoes (or: We Dance Barefoot)
This allows us to connect more fully with the Ground (socks are OK)
If you have a physical condition that you need dance shoes, then OK
2. We Dance without words (or: We Dance with Body Language)
This makes it easier to be in a Meditative State
No Verbal Instruction from the Facilitators
No Talking from the Dancers
3. We Dance as We Are
No Drugs/Alcohol, No Phones, No Camera/Video, No Scents, No Expectations, No Judgements, No Shoulds, No Oughts… Just Be Yourself; With Respect for Ourselves, the Space, and One Another.