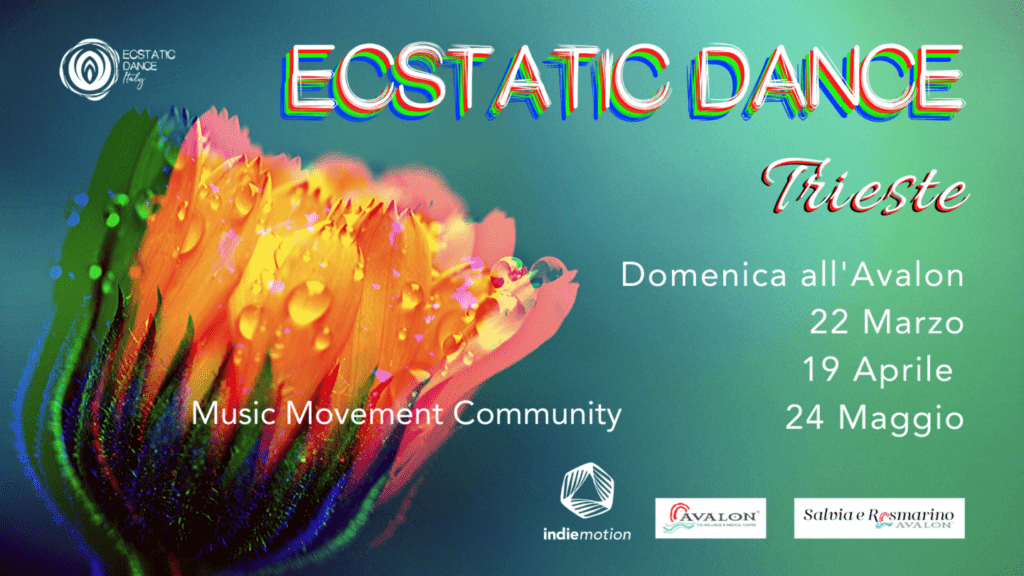 ECSTATIC DANCE
Music ★ Movement ★ Community
Sundays at Avalon Trieste
★ 22 March
★ 19 April
★ 24 May
Welcome back to Sunday mornings Ecstatic Dance in Trieste facilitated by Kàartik with indiemotion group for sweet awakenings in Yoga and regenerative waves in Music and Movement!
Immerse in the springtime green triestine Karst our community gather barefooted and without talking for three hours of free form movement and yoga accompanied by conscious DJ set.
Complete the experience sharing a lovely community brunch at the Ristorante Salvia e Rosmarino by Avalon and add Wellness between the Pool and the Thermarium essence of Avalon Trieste.
Enjoy spring blooming and find yourself dancing #EcstaticDance
★ PROGRAM E.D.
h 10 Warm up
h 11 Opening circle
h 11:15 Ecstatic Dance – DJ set
h 12:45 Closing circle
You can arrive at any time, ride the wave or simply observe its beauty. There is room to connect and meditate barefoot. If you need socks or shoes use those for indoor sports.
Consider the dance floor as a sacred space to uplift the soul by keeping conversations outside the dance room to respect people meditating in movement.
————————-
★ Choose your EXPERIENCE:
1. Ecstatic Dance (from 10am to 1pm)
2. Ecstatic Dance + Brunch (menù on request)
3. E.D. + Brunch + Wellness (Pool and Thermarium)
★ EARLY BIRDS (register before Monday 16 March *)
1. Ecstatic Dance 15€
2. Ecstatic Dance + Brunch 35€
3. E.D. + Brunch + Wellness 45€
* Register with Name and Surname to info.indiemotion@gmail.com and pay with wire transfer or PayPal
ENTRY
1. Ecstatic Dance 20€
2. Ecstatic Dance + Brunch 40€
3. E.D. + Brunch + Wellness 55€
INFO and registration indiemotion
(+39) 349 0914117
info.indiemotion@gmail.com
★ Follow us Ecstatic Dance Italy
#indiemotionArt #EcstaticDanceItaly
Avalon Wellness, Borgo Grotta Gigante, 42/b Trieste
Ecstatic Dance – 3 Simple Guidelines
1. We Dance without shoes (or: We Dance Barefoot)
This allows us to connect more fully with the Ground (socks are OK)
If you have a physical condition that you need dance shoes, then OK
2. We Dance without words (or: We Dance with Body Language)
This makes it easier to be in a Meditative State
No Verbal Instruction from the Facilitators
No Talking from the Dancers
3. We Dance as We Are
No Drugs/Alcohol, No Phones, No Camera/Video, No Scents, No Expectations, No Judgements, No Shoulds, No Oughts… Just Be Yourself; With Respect for Ourselves, the Space, and One Another.