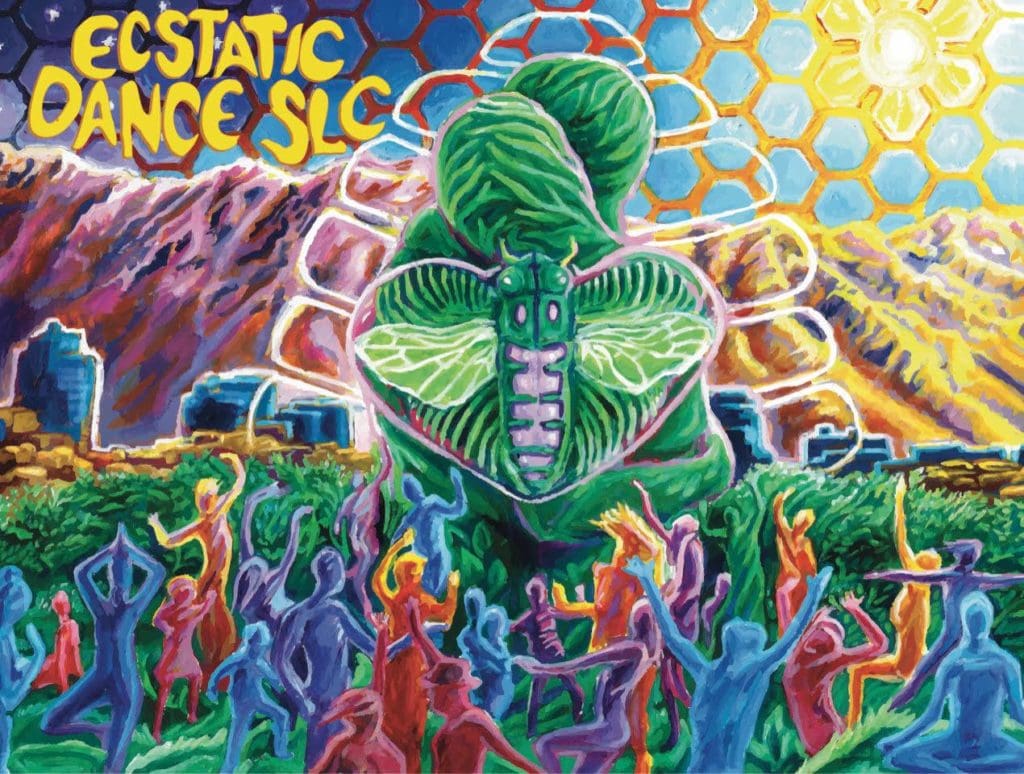 Ecstatic Dance Salt Lake City
Welcome to Ecstatic Dance Salt Lake City! We are a vibrant community of Ecstatic Dancers, dancing weekly in the SLC Krishna Temple, and have been running since 2016. If you find yourself in Salt Lake City, UT, we look forward to dancing with you!
When?
We meet every Wednesday 6:00 pm – 9:00 pm
Yoga 6:00 pm – 7:00 pm
Dance 7:00 pm – 9:00 pm
(We are supported by donations and volunteers)
How much is Ecstatic Dance?
Admission is $20, however, no donation is turned away. If you cannot afford $20, please contact us for volunteer opportunities or other forms of exchange. We rely on the support of our community to run. We support our artists, DJs, Yoga Teachers, Body Healers, and the like, so you can feel confident that whatever your contribution is going towards your community. If you would like to make any additional donations of time or money, we would be extremely grateful.
Can I bring kids?
Yes, kids of all ages from infant to 100 years old are welcome. We offer free childcare during dance.
How can I participate and contribute my time/talent to Ecstatic Dance?
We get asked this a lot! Which is awesome, because Ecstatic Dance is by its very nature the total sum of its own community. If you are in the area and teach yoga, dance, contact improv, play instruments, sing, have marketing skills, cooking skills, juicing skills, are a good copywriter, artist, or designer, and would like to volunteer as a form of donation, please contact us!
I love Ecstatic Dance and I really want to talk to some of the people that are there, but there's no talking on the dance floor. How in the heck do I meet people in the Ecstatic Dance community?
You can talk anywhere other than the dance floor and alter/mediation/contemplation room. Volunteering for set-up and break-down of the dance offers some additional time to interact with community members. The temple often prepares a sit-down meal that some of the dancers attend and visit with one another after dance. Getting involved in the community garden in the back of the temple is also a good way to form connections!
965 East 3370 South Salt Lake City, UT 84106
Ecstatic Dance – 3 Simple Guidelines
1. We Dance without shoes (or: We Dance Barefoot)
This allows us to connect more fully with the Ground (socks are OK)
If you have a physical condition that you need dance shoes, then OK
2. We Dance without words (or: We Dance with Body Language)
This makes it easier to be in a Meditative State
No Verbal Instruction from the Facilitators
No Talking from the Dancers
3. We Dance as We Are
No Drugs/Alcohol, No Phones, No Camera/Video, No Scents, No Expectations, No Judgements, No Shoulds, No Oughts… Just Be Yourself; With Respect for Ourselves, the Space, and One Another.