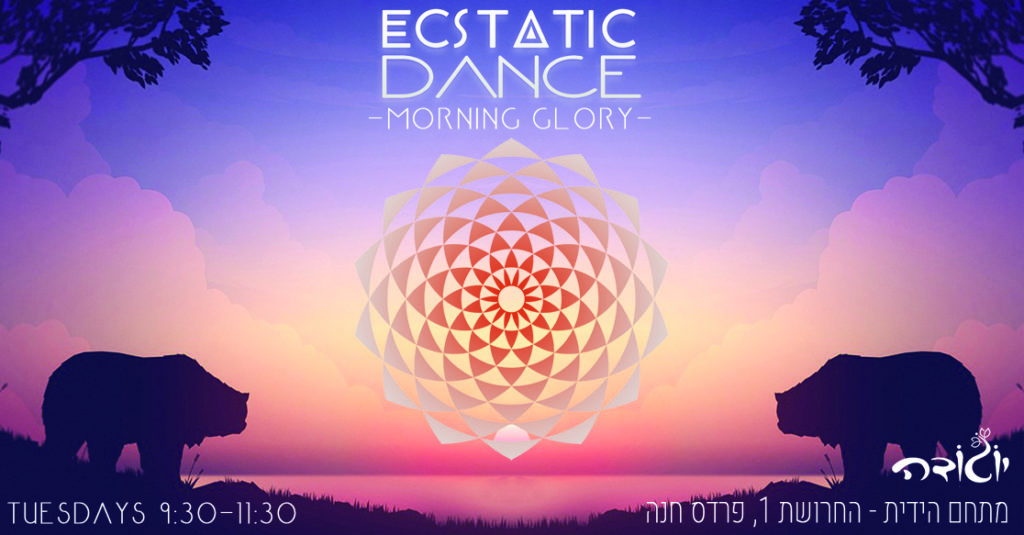 Ecstatic Dance Pardes Hana Morning Glory Israel
~ Ecstatic Dance Israel ~
Registration is open (50 participants only), please specify the date.
An Open space for dancing and free expression. Personal and group transformation. A place that accepts us without judgment. A place to dance through all our emotions.
Ecstatic Dance is a world movement that spreads over dozens of
countries and once a week creates a space for ecstatic dancing where there is room to express ourselves freely. Each time a different DJ creates a journey that allows us to fly, dive, open up and release ourselves.
We meet every Wednesday at 9:30 till 11:30
70 NIS at the entrance
or 5 pass for 300NIS
or 10 pass for 500NIS
♥
Come and Dance as you are
Ecstatic Dance Israel
Yogoda, Kharoshet 1, Pardes Hana, Israel
Ecstatic Dance – 3 Simple Guidelines
1. We Dance without shoes (or: We Dance Barefoot)
This allows us to connect more fully with the Ground (socks are OK)
If you have a physical condition that you need dance shoes, then OK
2. We Dance without words (or: We Dance with Body Language)
This makes it easier to be in a Meditative State
No Verbal Instruction from the Facilitators
No Talking from the Dancers
3. We Dance as We Are
No Drugs/Alcohol, No Phones, No Camera/Video, No Scents, No Expectations, No Judgements, No Shoulds, No Oughts… Just Be Yourself; With Respect for Ourselves, the Space, and One Another.