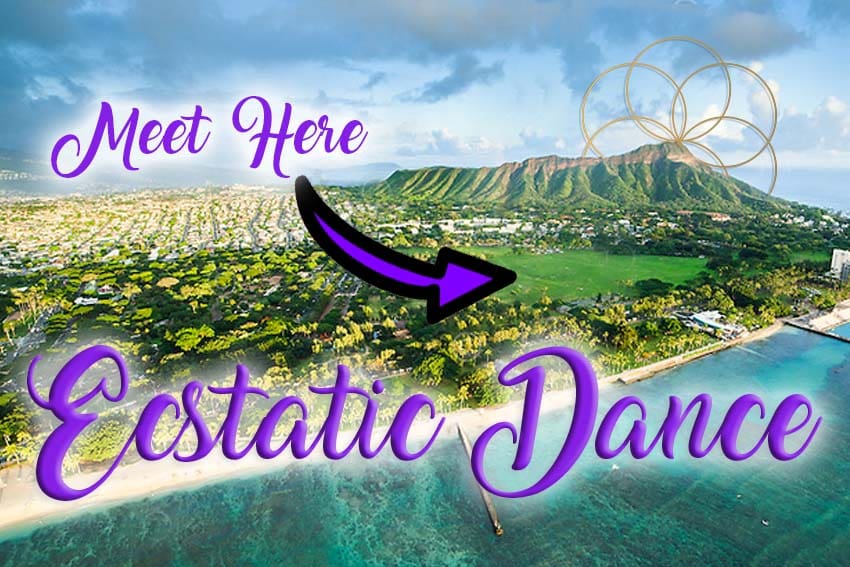 Ecstatic Dance Oahu, Hawaii
Dig your feet into the Aina at our weekly Ecstatic (Dis)Dance at Kapiolani Park.
Ecstatic Dance Oahu is a coalition of Ecstatic Dance evangelists who believe in the power of free-form movement and music to bring together the community.
Everyone deserves a solid dance session at least once a week! So bring your friends.
WEEKLY FEATURED HOSTS:
Jonathan Barry, Jonathan Price, Jerome James, Sage Bee, and Liam Skilling
SCHEDULE:
6pm: Arrive, Set up, Stretch, Connect with Community.
6:30: Yoga Flow
6:45: Cacao Ceremony
6:50-8:50 Ecstatic Dance
8:50-9:00 Closing Circle
9-10: After Jam: Fire, Freestyle, and Flow. Bring instruments and good vibes.
Location: CENTER OF KAPIOLANI PARK
ABOUT ECSTATIC DANCE:
Have you ever danced for 2 hours straight?? When is the last time you experienced the heart opening bliss of dancing to great music on the beach?
FRIDAY NIGHTS at SUNSET EVERY WEEK
TIME: 6-10ish
DONATION
$10-20+ donation at the door (tax deductible for our non profit if you need a receipt let us know).
This is all about getting great exercise, freeing your mind and body, and connecting with yourself and with your community.
We dance fearlessly and create a judgement free zone where we can play, leap, roll twerk and move freely – which gives you permission to do the same…
Our focus is to create a community space for healthy living and a safe environment of RESPECT where you can be yourself in a dynamic group setting.
GUIDELINES: To maintain a sacred space for movement and free expression we ask that you please follow these guidelines:
 No talking on the dance floor.
 Drug-Free, Smoke-Free, Alcohol-Free Environment
 No Photos or Videos, Cellphones quiet and out of sight
 Respect the space and each other
 Dance however you wish
 Dance alone or with as many partners as you like–If you'd rather not dance with someone, thank them by placing your hands in prayer at your heart.
At the end of every dance we will convene in a closing circle to share our experiences with our community.
FIRE JAM & AFTER JAM:
After dance bring your favorite fire flow toys, glow toys, and instruments and lets make Friday night epic again.
What to Bring:
1. Loose-fitting/ comfortable clothes that allow for free movement. Be sure to bring something warm in case it gets cold as the sun goes down.
2. Water to keep yourself hydrated
3. A towel in case you want to lay down or go in the water after 
4. A positive attitude of mutual respect for yourself and others
SOCIAL DISDANCE PROTOCOL
 COVID PRECAUTIONS: Please bring a mask and have it on when dancing if you feel called. We will be checking temperatures upon arrival so please check in with our team when you arrive.
 Please maintain a healthy distance of 6 feet apart from each other
 DO NOT COME IF YOU FEEL UNHEALTHY OR HAVE BEEN IN CONTACT WITH ANY UNHEALTHY PEOPLE
Kapiolani Park Honolulu HI
Ecstatic Dance – 3 Simple Guidelines
1. We Dance without shoes (or: We Dance Barefoot)
This allows us to connect more fully with the Ground (socks are OK)
If you have a physical condition that you need dance shoes, then OK
2. We Dance without words (or: We Dance with Body Language)
This makes it easier to be in a Meditative State
No Verbal Instruction from the Facilitators
No Talking from the Dancers
3. We Dance as We Are
No Drugs/Alcohol, No Phones, No Camera/Video, No Scents, No Expectations, No Judgements, No Shoulds, No Oughts… Just Be Yourself; With Respect for Ourselves, the Space, and One Another.