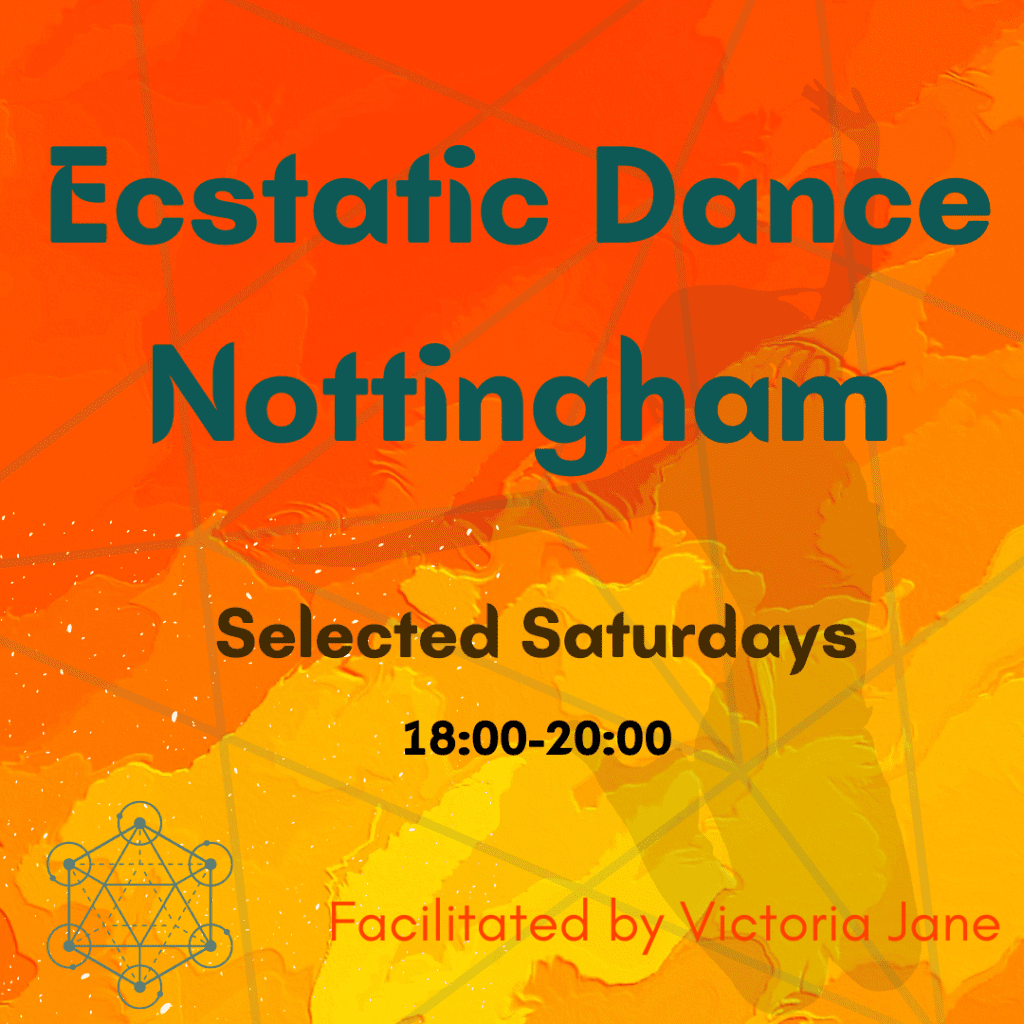 Ecstatic Dance Nottingham
Let's Dance!!! Ecstatic Dance is a globally recognised event, creating a safe and respectful space for us to 'just dance', free flow and let go. All abilities are welcome!
Format
18:00 Warm-up Music, Dance, Stretch (self-led)
18:15 Opening Circle
18:30 Ecstatic Dance
20:00 Closing Circle
20:15 Finish
What is Ecstatic Dance?
Ecstatic Dance is a dance/movement practice to explore the exhilarating feeling of moving your body freely. You are invited to move, play, connect, sweat, stretch, sound, unwind, renew, release, improvise and transform.
"Our intention for these Ecstatic Dance classes is self-exploration, connection, fun, healing, expanding human potential and community building through freestyle ecstatic dance." – Seth Newman (Ecstatic Dance London)
ED has organically grown into a space of movement and music exploration inspired by sources such as; Gabrielle Roth (5 rhythms), ritual dance, trance dance and contact improvisation. These influences have evolved Ecstatic Dance into a movement journey of the mind, body and soul. The music will take the dancer on a movement journey through a diverse mixture of rhythms and genres depending on the DJ and circle leader. There is no teacher, but there is a circle leader to provide containment and guidance.
Guidelines
1. No talking on the dance space
2. No shoes. Ecstatic Dance is a barefoot dance practice helping us to ground and connect to the earth
3. No drugs/alcohol.
4. Phone-free zone
5. Respect for each other's personal space
What to bring
– Comfy clothes for movement and expression, changing facilities are provided
– Reusable water bottle; free water is provided and purchase refreshments such as coconut water are available
– Bring a small healthy snack for afterwards
Prices
Tickets are £13 General
Refunds
Refunds are currently not available. You are welcome to change your ticket to a different date or give your ticket to a friend. Please email Victoria Jane via victoriajaneascension@gmail.com to inform us about any changes or queries you may have.
Facilitator Victoria Jane
Victoria Jane has been passionate about dance since early childhood, dancing through ballet school and performing arts college to accomplishing a BA Hons in Contemporary Dance at the Northern School of Contemporary Dance. After her studies, Victoria found interest in the healing arts and yogic movement and philosophy. Victoria first found her passion for free flow movement through '5 Rhythms' workshops in Melbourne Australia and then ventured back to Europe where she facilitated Ecstatic Dance in The Netherlands with the Ecstatic Dance team in The Hague. Victoria has an MA Degree in Myth, Cosmology and the Sacred, where she majored in Jungian thought, Spiritual Channeling and Ekstasis Dance, exploring her concept 'Being or Pretending to Be', into the question, 'Are you Dancing or Pretending to Dance?'
Victoria hopes her experience and knowledge bring easefulness, depth and inspiration to the ecstatic dancers' inner journey and expression.
If you have any questions or queries for Victoria please contact: victoriajaneascension@gmail.com
'Let's Dance'
Oldknows Factory, Unit 2A The, St Ann's Hill Rd, Nottingham NG3 4GN
£10 Early Bird . £13 General . £18 Feeling Abundant (support EDN)
DJ VJ
October 22, 2022
18:00 - 20:00
DJ VJ
November 12, 2022
18:00 - 20:00
DJ VJ
November 26, 2022
18:00 - 20:00
DJ VJ
December 17, 2022
18:00 - 20:00
DJ VJ
December 31, 2022
18:00 - 20:00 after party
Ecstatic Dance – 3 Simple Guidelines
1. We Dance without shoes (or: We Dance Barefoot)
This allows us to connect more fully with the Ground (socks are OK)
If you have a physical condition that you need dance shoes, then OK
2. We Dance without words (or: We Dance with Body Language)
This makes it easier to be in a Meditative State
No Verbal Instruction from the Facilitators
No Talking from the Dancers
3. We Dance as We Are
No Drugs/Alcohol, No Phones, No Camera/Video, No Scents, No Expectations, No Judgements, No Shoulds, No Oughts… Just Be Yourself; With Respect for Ourselves, the Space, and One Another.