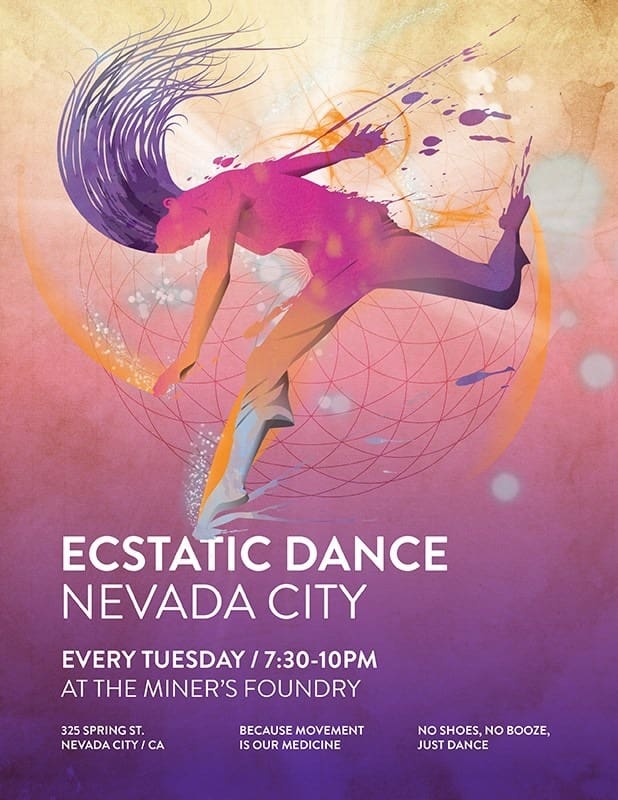 Ecstatic Dance Nevada City
Ecstatic Dance Grass Valley is DJed community dance gathering. It is a drug and alcohol free, family friendly event. Leave shoes and conversations at the door.
ECSTATIC DANCE NEVADA CITY GUIDELINES
VERBAL & NON-VERBAL SPACES
We've created one VERBAL and 2 NON-VERBAL spaces for you to engage with your ecstatic dance experience. The social lounge area is the space you first walk into that has been created for you to enjoy and experience verbal conversations and connections.
The first NON-VERBAL space is the Stretch Mat Area for stretching and NON-VERBAL partner yoga and acro yoga – this entire room is NON-VERBAL!
The second NON-VERBAL area is the Dance Floor down the stairs from the stretch space.
If a SHORT conversation needs to happen in EITHER of these NON-VERBAL spaces, lean into your partner's ear and whisper to them. If the short conversation turns into a longer one, please take your conversation into the social lounge. If someone is talking near you in either of these spaces, please help us by inviting them to take their conversation to the Social Lounge.
We believe that movement is medicine and this is why we stress non-verbal spaces. Silence allows the attention to drop out of the mind and into the depth of the body where magic resides. Silence allows for a deeper dance dive. We have so much time to be social and only 2.5 hrs a week to practice our movement dance meditation.
BODY AWARENESS
We encourage interaction and connection on the dance floor. When you want to dance with another, please be sensitive, mindful and slow. Listen for their body's "YES." Some suggestions are: mirroring their dance moves, offering a hand, making eye contact and smiling. These are just a few options to respect the other's autonomy on the dance floor. If they turn away from you, or give you prayer hands in front of their heart in Namaste, this is their "NO." Don't take it personally, just redirect yourself and keep dancing. If someone isn't listening to your NO, or they are making you feel uncomfortable or they are being inappropriate, please tell someone immediately. Also, if you see inappropriate behavior happening, please tell Jill or Wendy right away.
Blind-fold dancing can be a deepening movement experience. Please be aware of your surroundings, move with care and stay in your space.
No heavy perfume or oils. Please practice body hygiene when you come to dance. Seriously. No one likes to dance with stinky people.
Bare feet and dance shoes only on the dance floor please.
LITTLE ONES
One attentive adult to one child at all times. Please be aware of little ones around you if they are unattended and help them to get reunite
move * breathe * celebrate * release * deepen * surrender * explore * play * pray * connect * discover * express *
325 Spring St, Nevada City, CA 95959
Omar Aena
July 12, 2022
Sound Healing Pascal Suraj Sayan
J Brave
July 19, 2022
Sound Healing : Winter Jendayi
Nadi
July 26, 2022
Sound Healing : Breeze
Ecstatic Dance – 3 Simple Guidelines
1. We Dance without shoes (or: We Dance Barefoot)
This allows us to connect more fully with the Ground (socks are OK)
If you have a physical condition that you need dance shoes, then OK
2. We Dance without words (or: We Dance with Body Language)
This makes it easier to be in a Meditative State
No Verbal Instruction from the Facilitators
No Talking from the Dancers
3. We Dance as We Are
No Drugs/Alcohol, No Phones, No Camera/Video, No Scents, No Expectations, No Judgements, No Shoulds, No Oughts… Just Be Yourself; With Respect for Ourselves, the Space, and One Another.