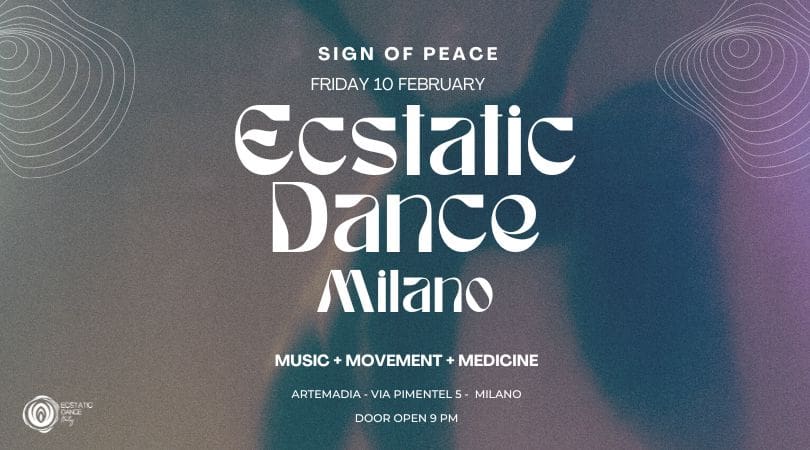 Ecstatic Dance Milano - Sign of Peace
Join the Tribe Feel the Vibe
Friday 10 February
From 9:00 Pm To 11.00 Pm
We kindly ask you to arrive on time so we can all start together.
~ Ecstatic Dance is a neutral space for free self expression, is a unique free form mindfulness practice. We start with an opening circle, play some games to arrive into our bodies and to connect with others.
It's the ultimate place to completely let go and give your self to what ever comes up through your spontaneous movement.
We dance approximately 2 hours to a wonderful live Dj set and we finish the dance in a closing circle with a short meditation.
PROGRAM
REGISTRATION:
Limited place
send email or whatsapp for info, reservations, and costs
ecstaticdancemilano@gmail.com
or via whatsapp: +39 3518200097
TICKETS:
The entrance ticket can be purchased:
• In presale >>
Every Thursday before the event.
15 EURO / 12 euros students under 24 (university card)
(choose "send money to friends") indicating the name and surname of the participants
• At the door: * CASH ONLY *
20 euro / 16 euro students under 24 (University card)
SUBSCRIPTION AND PROMOTION
3×2 (enter 3 paid for 2) for € 39
only if you buy online.
5 practices at a cost of € 60 instead of € 75
(Valid for two months from the date of purchase – subscription transferable to third parties, just notify us by writing an email for the replacement)
TERMS AND CONDITIONS
I am aware that if for any reason I cannot participate in the procedure, the ticket purchased is non-refundable.
The ticket can be transferable and can be given to third parties by informing the organizer of the changes in advance.
In case of failure to reach the minimum number of participants (7), the organization reserves the right to cancel the practice, giving timely notice to the participants.
In case of cancellation, the participant will receive a refund of the amount paid in full if purchased with the "send money to friends" option, otherwise the refund sent will be deducted from the paypal management costs.
CONNECTIONS
Send QUESTIONS,FEEDBACK,IDEAS
=> ecstaticdancemilano@gmail.com
 dance barefoot & sober
 respect personal space
 shut off your phone (no camera, no noise)
 we keep the dancefloor clear of talkings
 we promote natural state of mind
 be comfortable with your clothing
 take care of your personal Hygiene
 come on time
See you on the dance flow
Ecstatic Dance – 3 Simple Guidelines
1. We Dance without shoes (or: We Dance Barefoot)
This allows us to connect more fully with the Ground (socks are OK)
If you have a physical condition that you need dance shoes, then OK
2. We Dance without words (or: We Dance with Body Language)
This makes it easier to be in a Meditative State
No Verbal Instruction from the Facilitators
No Talking from the Dancers
3. We Dance as We Are
No Drugs/Alcohol, No Phones, No Camera/Video, No Scents, No Expectations, No Judgements, No Shoulds, No Oughts… Just Be Yourself; With Respect for Ourselves, the Space, and One Another.