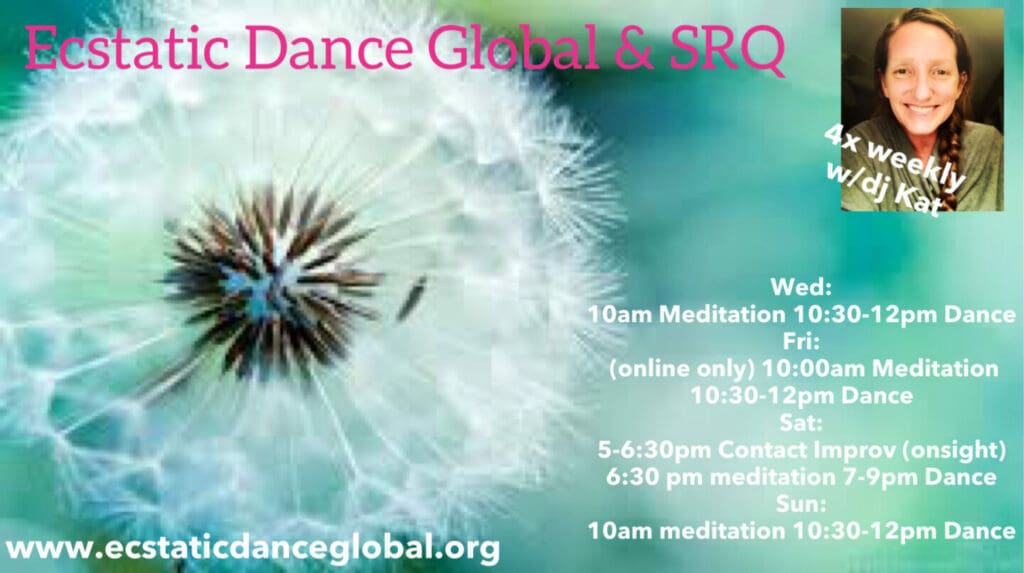 Ecstatic Dance Midweek "WAKE UP" onsight Jam
Public

 

Anyone on or off Facebook
This is onsight 2924 Hyde park st Soul Studios and broadcast out.
New time: meditation 10am 10:30-12pm dance.
Guidelines
be present. NO PHONES. NO CAMERAS.
be embodied. NO TALKING.
BE CLEAR. NO INTOXICANTS.
BE CONSENSUAL. LISTEN FOR A YES. RESPECT A NO.
BE HERE. NO OUTSIDE SHOES.
BE FREE. DANCE HOW YOU WANT. NO JUDGEMENT. When we step on the dance floor, we include our whole selves, even the frightened parts that want to hide.
Join others from around the globe and onsight in Sarasota Florida ( eastern time zone) to get present, connect to breath, sensation, music, emotions, others, and higher sources of consciousness thru our time together. You can move however you like including meditation, stillness, yoga, breath practices, prayer, tai chi, contact improv with a chair, earth, anything from home, authentic movement, traditional calisthenics, wt training, physical therapy, and anything your body enjoys that is respectful to the space/others in our group. We are a mixed ages group of movers and welcome families and you d dancers….
It's also a great time to love on your pets… or get your family dancing!!
Dances are facilitated and some are dj-Ed live . Your presence and financial contributions keep the dances going and are a way to practice reciprocity. Thank you! If you aren't able to pay for dances right now, pls reach out to kelly and we'll work out something. We only ask that you communicate with her it's agreed upon and viable. We won't turn anyone away.
Tips:
Clear space in your dancing area. You don't need a lot of room and can do it from a chair. A yoga mat is nice if your floor is hard.
Let people you live with know what you are doing and ask them not to interrupt … to help you stay focused. Small things can be disturbing at first or on any given day. Try to keep you phone off, redirect your focus to your intention and make this practice special….. like lighting a candle or making an altar.
Listen to your body. Small micro movements can be really helpful. You don't need to "dance" whole time. Similar to kids in Olay… breaks your pause, Re orient, and connect is helpful.
2924 Hyde Park st (Soul Studios)
Ecstatic Dance – 3 Simple Guidelines
1. We Dance without shoes (or: We Dance Barefoot)
This allows us to connect more fully with the Ground (socks are OK)
If you have a physical condition that you need dance shoes, then OK
2. We Dance without words (or: We Dance with Body Language)
This makes it easier to be in a Meditative State
No Verbal Instruction from the Facilitators
No Talking from the Dancers
3. We Dance as We Are
No Drugs/Alcohol, No Phones, No Camera/Video, No Scents, No Expectations, No Judgements, No Shoulds, No Oughts… Just Be Yourself; With Respect for Ourselves, the Space, and One Another.