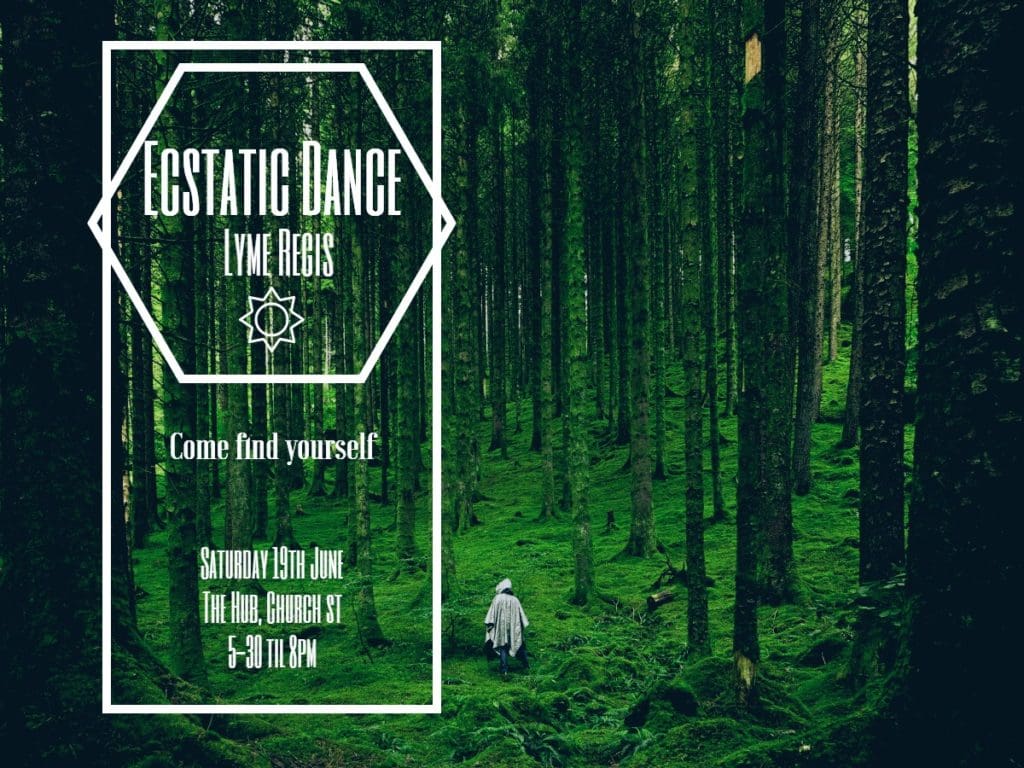 Ecstatic Dance Lyme Regis
Ecstatic Dance – Lyme Regis
Is a Dance meditation practice where we embrace the power of dance as a healing modality, and evoke our inner transformative mechanics through the medicine of movement. Plus awakening the ancient wisdom of our tribal ancestry in dance, as a tool for living life in a more harmonious connection with the World and Universe around us.
The practice will be Saturday 1st August – evening practice – 5.30pm – 8pm
15-20mins – Opening Circle (approx)
1.30-2hrs – Dance (approx)
10-15mins – Closing Circle (approx)
3rd Saturday of every month
The Hub, Church st, Lyme Regis, Dorset, DT7 3BS
sliding scale from £3, £5 or £7
Ecstatic Dance – 3 Simple Guidelines
1. We Dance without shoes (or: We Dance Barefoot)
This allows us to connect more fully with the Ground (socks are OK)
If you have a physical condition that you need dance shoes, then OK
2. We Dance without words (or: We Dance with Body Language)
This makes it easier to be in a Meditative State
No Verbal Instruction from the Facilitators
No Talking from the Dancers
3. We Dance as We Are
No Drugs/Alcohol, No Phones, No Camera/Video, No Chemical Scents, No Expectations, No Judgements, No Shoulds, No Oughts… Just Be Yourself; With Respect for Ourselves, the Space, and One Another.