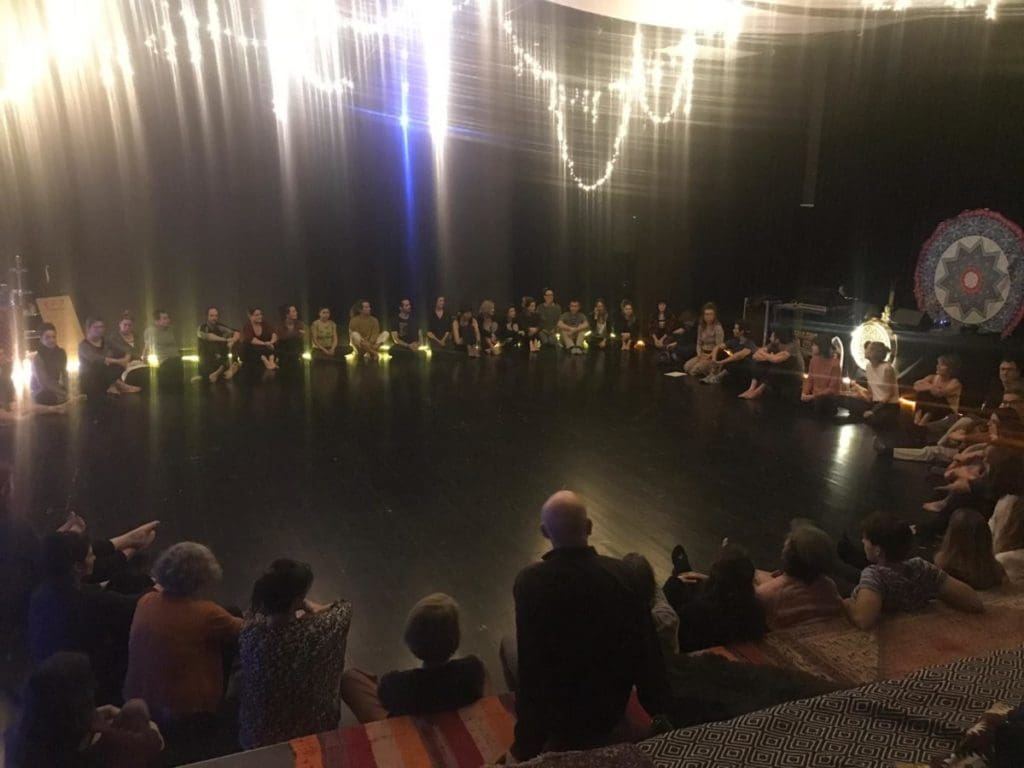 Ecstatic Dance Luzern Tribe
WELCOME TO ECSTATIC DANCE LUCERNE TRIBE
Let us take you on a dance journey through the liveliness of your body and the worlds of your soul to distant places. Sound carpets full of sounds and beats open undreamt layers, allow free dancing and deep relaxation.
What wants to be danced?  What wants to be felt?  Which voice in me do I want to listen to?
Open yourself to the rich soundscape of this journey. Become soft and gentle so that you can hear the call of your heart, which wants to shake off the heaviness of the day. Do not just dance, become a dance. Be a snow-covered mountain. Become the waves of a wild sea. Be the wind that whispers its secrets into your ears. Become the morning sun that shines through every vein, the roots of a tree that connects with the surrounding trees. Explore the universe within you and become part of a conscious "dance tribe" that enables a state of wonderful connection.
WHO ARE WE?
Cofounder, organizer, facilitator and space holder of Ecstatic Dance Lucerne is Vera Isabella Renggli, passionate dancer and bodyworker, dance and movement teacher, artist, teacher for visual and 3-D design and mindfulness. She is a ritual and ceremonial companion, shamanic energy worker and Connecter of all kinds.
Her wonderful, unique team, which lovingly cares for the well-being of the dancers, arranging and dismantling, taking care of the cash desk and the bar, consists of co-founder of Ecstatic Dance Lucerne and DJ Cristiano MourartS, Priska, Daniela, Rhea, Isabel, Reto and Jandrik.
We are happy to share our passion with you. We offer a healing space where we can let ourselves fall, move freely and find our personal medicine in dance.
WHAT CAN YOU EXPECT IN THE DANCE SEASON 2020?
At our" Ecstatic Dance Events" you have time to arrive after the door opens, to descend and warm up. The dance journey begins and ends with a relaxed "opening and closing circle". The physical exercises and inputs, accompanied by facilitator Vera Isabella, help you to get in the right mood for your journey and to round it off afterwards.
The season 2020 starts again with national and international DJanes and DJs from the "Consciouss Dance scene" as well as live music projects of all kinds.
The styles of the DJanes and DJs who play with us vary and come from different directions and influences like electronic dance music (down tempo, deep house, techno, drum&bass etc), world, funk, jazz, dub, classical music, different sounds and soundscapes and much more.
After dancing you have the possibility to strengthen yourself at our small bar and chat with each other.
SATURDAY ECSTATIC DANCE
19:00 Door opening * Welcome Tea *
19:30 – ca.22:15 Dance journey with Opening & Closing Circle/ Soundhealing with Special Guests/Live
22:15 – 23:00 Closing with snacks and chatting
ENTRY
Evening box office: CHF 35 / CHF 25 for students/apprentices/ Kulturlegi (with ID)
Special events: CHF 45/ CHF 35
Advance booking: Eventfrog
ECSTATIC SUNDAY
We start the Sunday with a "Movement Lesson" led by different movement teachers. Yoga, massage, various bodywork etc. This lesson makes us supple and brings us into our body. So we are well prepared to dive into the following dance journey.
If you would like to sleep a little longer on Sunday, you can also come directly to dance. Afterwards the dance journey begins and ends with a relaxed "opening and closing circle".
If you like, stay for the *Ecstatic Brunch Sharing*, to strengthen yourself after the journey and to be together a little bit more. Bring your vegetarian/vegan food to share.
PROGRAM
9:45 – 10:00 Door opening box office / Arrival
10:00 – 10:45 Movement Lesson with guest teacher
10:45- 11:00 Break/ door opening/ arriving
11:00 – 13:00 Opening Circle / Dance Tour / Closing Circle
13:00 – 15:00 Ecstatic Brunch Sharing "Bring your Vegi/ Vegan Food
ENTRY
VARIANT 1 from 9:45 am Yoga & Ecstatic Dance CHF 45/ CHF 35 Studis
VARIANT 2 from 10:45 Ecstatic Dance CHF 35 / CHF 25 Studis
SATURDAY: 29.2.20 / 28.3.20 / 25.4.20 / 30.5.20
SONDAY: 9.2.20 / 8.3.20 / 12.4.20 / 10.5.20 / 14.6.20
Zirkusschule Tortellini, Grossmatte 7, 6014 Littau Luzern
Ecstatic Dance – 3 Simple Guidelines
1. We Dance without shoes (or: We Dance Barefoot)
This allows us to connect more fully with the Ground (socks are OK)
If you have a physical condition that you need dance shoes, then OK
2. We Dance without words (or: We Dance with Body Language)
This makes it easier to be in a Meditative State
No Verbal Instruction from the Facilitators
No Talking from the Dancers
3. We Dance as We Are
No Drugs/Alcohol, No Phones, No Camera/Video, No Scents, No Expectations, No Judgements, No Shoulds, No Oughts… Just Be Yourself; With Respect for Ourselves, the Space, and One Another.
4. Please wear comfortable clothes to move freely.