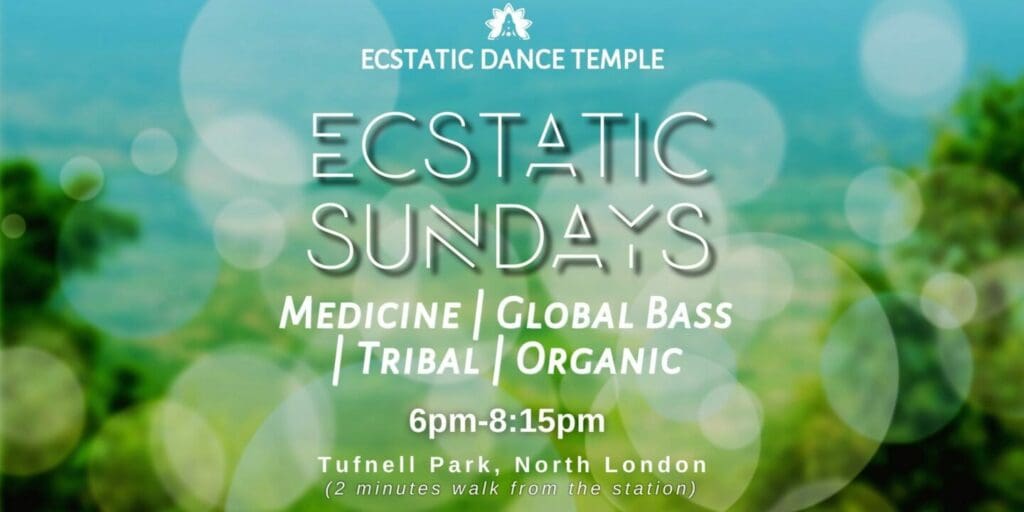 Ecstatic Dance London: SUNDAY Ecstatic Dance Temple
SUNDAYS: ECSTATIC DANCE TEMPLE® 6pm-8:15pm – Ecstatic Dance & Cacao Ceremony in North London
We return on Sunday evenings with an immense love for the encounter of both electronic and organic realms through sound, cacao, positive intentions and expression. With sound system and optional silent disco headphones plus live percussion to accompany you on your dance journey.
Please see all upcoming dates on Eventbrite or on our website's events calendar
2 min walk from Tufnell Park Station (full address details in your order confirmation email)
£15-£25 (we also offer free crew spaces and discount codes)
ECSTATIC DANCE PRACTICE SPECIFICS:
Warm-up: 15-30 minutes stretch, move/dance and reflect on the intention for the dance to a gentle sound wave.
The Practice: 60-90 minutes of freestyle dancing to a large sound wave featuring Live DJ set with our resident DJ Seth Newman. Some guidance & facilitation will be provided. And then we will let the music, the community and our own inner space direct our steps, our movements, our expression, our journey.
Relaxation : 5-15 minutes of Deep Relaxation.
"Our bodies instinctively know what feels good or bad, right or wrong. However, often our heads get in the way. Ecstatic Dance is about finding our way through to what feels good. How can we use dance to consciously transform towards finding joy, without denying our anger or sadness?  Ask yourself: what's my body feeling in this moment? Does it feel good moving this way, or that? Does it feel nourishing to dance with another, or dance solo? Where do I most feel connected with Self? Let your body lead the way." ~ Abigail Harris
GUIDELINES:
No late comers please. This is a shared journey from the beginning to the end and we aim to create a safe container for all dancers.
1. No talking during the dance (if you wish to talk, you are welcome to chat before/after dance outside the main dance space). When we dance without the chitchat, something alchemical can happen on the dancefloor. A unified field of Being emerges and we feel both wild and free, contained within ourselves And connected to something much, much greater than our individual selves.
2. Drug-Free, Smoke-Free, Alcohol-Free environment
3. No photos or videos, Mobile phones muted and out of sight
4. Care/Awareness for the co-created space and each other
5. Move your body however you wish
6. No spectating. Stay connected to your own body, sensations, emotions, and feelings. Ecstatic Dance is about you and your relationship to the Dance. Dancers feel uncomfortable when being spectated at. Come prepared to Dance yourself free from inhibitions!
7. You can dance alone, or with as many partners as (you) like to join. (If you'd rather not dance with someone, thank them for the offer by placing your hands in prayer position at your heart – Namaste. Thank you, no thank you.)
8. This is not a pick up place. Please respect all dancers (especially women) and do not ask for anyone's contact details. If you wish to stay in touch with someone, give them your email instead of asking for their contact details. No means no.