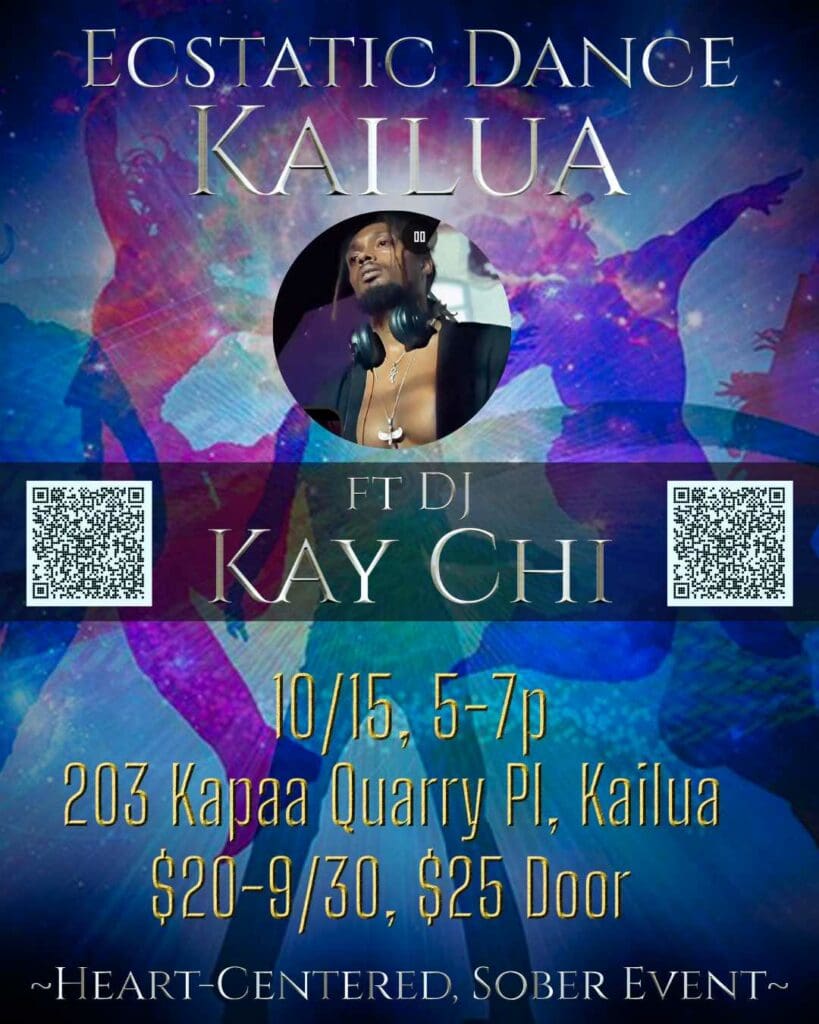 Welcome to Oahu's newest dance scene, Ecstatic Dance Kailua! Located at the beautiful Kailua Dance Academy only twenty minutes from Honolulu, get ready to forget, connect and sweat this Sunday, October 15th from 5-7pm!
A global phenomenon birthed in Hawai'i in 2001, ecstatic dance is a sacred means of self-expression through which we can experience bliss and ecstacy via music(mele) and dance(hula). Benefits of ecstatic dance including better health, increased energy levels, greater in-body comfortability, enhanced nonverbal communication skills and authentic connection with others, together we cocreate a safe container to let loose, go within and go wild. Guidelines and Agreements of Ecstatic Dance are as follows:
1. No Talking on the Dancefloor
2. No Shoes on the Dancefloor
3. No Photography or Videography
4. Absolute Respect, Consensual Touch Only
5. No Drugs, Alcohol or Smoking
Our evening flow is as follows:
5:00pm – Opening Circle, Journey Begins
7:00pm – Journey Ends, Closing Circle
7:15pm – Departure
About the DJ:
"Performing at dances, events and festivals across the islands since 2018, now making his Oahu debut, Kay Chi is an eclectic DJ who delves into a diverse array of genres, including liquid, trap, house, dubstep, bass, pop, r&b, afro rhythms and many more. Viewing music and dance as both medicine and a sacred means of frequency modulation through which we are able to transform our bodies, minds and spirits, Kay Chi strives to evoke the highest vibrations possible through his performances, generating experiences of thrill, bliss and ecstasy within those who attend each journey. Fire, elegance, and beauty being staples of each Kay Chi set, come prepared to forget, connect and sweat to a sexy, energetic and invigorating dance adventure!"
soundcloud.com/djkaychi
Energy exchange is $20 per individual until 9/30, $25 onwards. Payment can be made via the QR code on the flyer, or directly to @mamalovebone on Venmo.
Being an entirely new dance scene we are holding positive anticipation of community support, therefore if twenty individuals register by September 30th, we will also rent out the gorgeous upstairs space of the Kailua Dance Academy, increasing capacity to over fifty dancers! Mahalo nui loa, looking forward to seeing you on the dancefloor!
Payment is non refundable.
https://www.eventbrite.com/e/windward-ecstatic-dance-registration-726473340317?aff=oddtdtcreator
or
mamalovebone@venmo
or Zelle 808-936-6698
First Dance October 15 2023 more to follow
Kailua Dance Academy 203 kapaa quarry pl Kailua HI 96734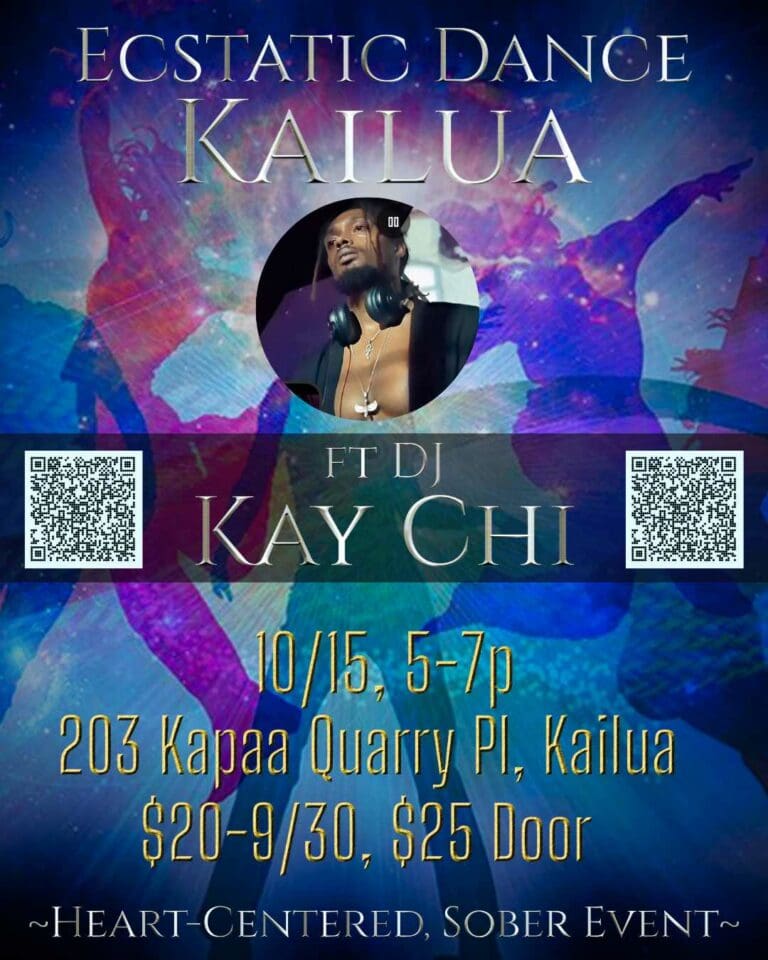 Kay Chi
October 15, 2023
Ecstatic Dance – 3 Simple Guidelines
1. We Dance without shoes (or: We Dance Barefoot)
This allows us to connect more fully with the Ground (socks are OK)
If you have a physical condition that you need dance shoes, then OK
2. We Dance without words (or: We Dance with Body Language)
This makes it easier to be in a Meditative State
No Verbal Instruction from the Facilitators
No Talking from the Dancers
3. We Dance as We Are
No Drugs/Alcohol, No Phones, No Camera/Video, No Scents, No Expectations, No Judgements, No Shoulds, No Oughts… Just Be Yourself; With Respect for Ourselves, the Space, and One Another.