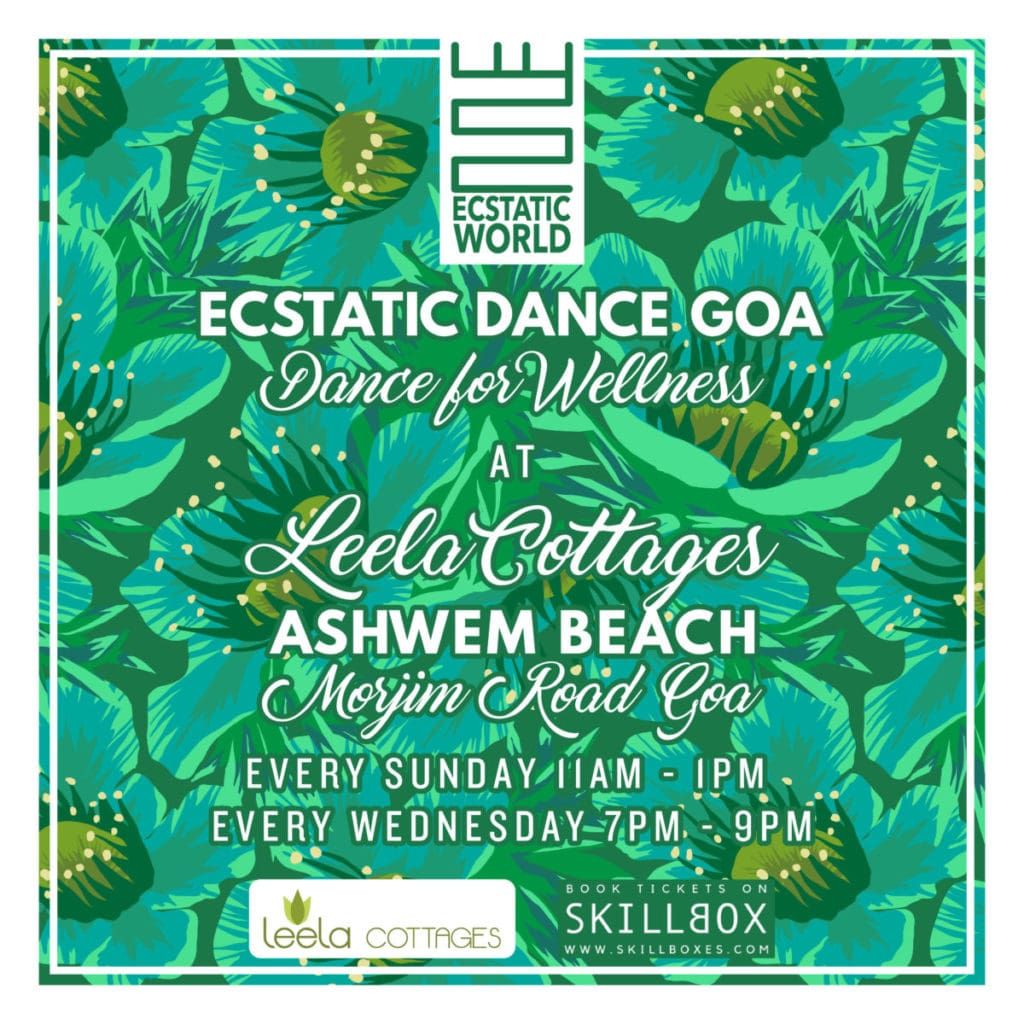 ABOUT
Ecstatic Dance Goa is a regular conscious dance chapter, creating transformational experiences with Ecstatic Dance as 'Dance for Wellness' for all.
Our team invites you to enter a safe / judgement free space that is delicately held. Find bliss in moments of freedom and joy through movement, stillness, authentic expression, connection with the self and others. Allow the music to take you on a magical journey. Come and shine as you are.
We welcome everyone from diverse cultural backgrounds, gender identities, able and differently abled bodies of all age, size, shape and color.
 ECSTATIC DANCE GUIDELINES
In ecstatic dance,
We are without 
 Footwear,

 Intoxicants

 Talking

Mobile phones / camera
 TICKET PRICE
Online: 750 INR (incl. taxes)
At the venue: 1000 INR (incl. taxes)
https://www.skillboxes.com/
Children below 12 yrs enter for free
 C-19 measures
1. Stay home if you have mild cold-like symptoms (sore throat, runny nose, sneezing, a mild cough or fever below 38 degreesC)
2. Avoid unnecessary contact.
3. Bring your own water bottle.
4. Sanitize your hands.
 CONNECT
IG : @ecstatic.dance
FB : Ecstatic World
Email : ecstaticdanceworld@gmail.com
Join us in weaving together a transformative community experience.
Big Love,
Team Ecstatic World
.
.
.
.

 #ecstaticdance

 #danceforwellness

 #inclusivity

 #community

 #ecstaticdancegoa
Leela Cottages, Ashwem Beach, Morjim Road, Goa
Ecstatic Dance – 3 Simple Guidelines
1. We Dance without shoes (or: We Dance Barefoot)
This allows us to connect more fully with the Ground (socks are OK)
If you have a physical condition that you need dance shoes, then OK
2. We Dance without words (or: We Dance with Body Language)
This makes it easier to be in a Meditative State
No Verbal Instruction from the Facilitators
No Talking from the Dancers
3. We Dance as We Are
No Drugs/Alcohol, No Phones, No Camera/Video, No Scents, No Expectations, No Judgements, No Shoulds, No Oughts… Just Be Yourself; With Respect for Ourselves, the Space, and One Another.