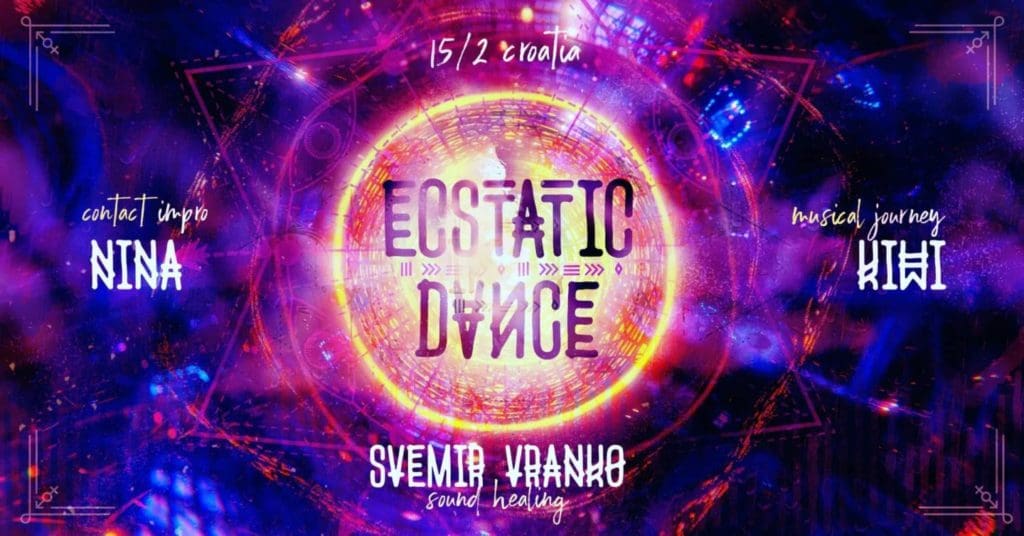 ***Pođite na plesno-iskustveno putovanje i zaronite u najdublje dijelove sebe***
ECSTATIC DANCE CROATIA
*DJ Kiwi in Space *Warm up: Contact Impro by Nina Radovanović (BG) *Sound healing: Svemir Vranko
VRIJEME: 15.02.2020., subota 18.30 – 21.30h
LOKACIJA: Plesni studio Fever, Ulica grada Vukovara 271, Chromosov toranj
KONTAKT: Nikolina, 8.indra@gmail.com
FB grupa: https://www.facebook.com/groups/371884870062422/
Cijena: 100 kn
*Ako bi netko jako volio doći, a nije u financijskoj mogućnosti, neka nam se javi u inbox pa ćemo dogovoriti prihvatljiviju cijenu.
*Broj mjesta je ograničen, osigurajte svoje mjesto na vrijeme
Prijava je isključivo preko ONLINE PRIJAVNICE:
https://goo.gl/forms/HOzDmQaYvBrdcL132
KIWI IN SPACE
Naš super heroj spušta se izravno sa svemira kako bi nas poveo na putovanje kroz galaksiju i više dimenzije. Kiwi in Space jedan je od pokretača eklektičnog klubskog programa Muzika Miliona i Solar stage floora na Goulash Disco festivalu, dobri duh mnogih reggae, dub, downtempo i tribal događanja i stvaratelj vizualnog identiteta Ecstatic dance Croatia. Njegov senzibilitet za muziku i stvaranje toplih vibracija visokih frekvencija odvest će vas u još neistražene dubine svijesti.
https://soundcloud.com/gosponkiwi/tito-in-space
WARM UP: Contact Impro by Nina Radovanović (Beograd)
Kontakt improvizacija omogučila mi je istraživanje povezanost tijela i uma na potpuno nove načine i u potpunosti promijenila moj život.
Putovala sam Europom s namjerom pohađanja satova, radionica, festivala i susreta sa raznim meni važnim učiteljima.
U Beogradu podučavam kontakt improvizaciju kroz redovne satove, organiziram jamove i radionice, sa željom da proširim ljubav prema ovoj veličanstvenoj plesnoj formi. Također, podučavam i organiziram okupljanja sa svrhom prakticiranja meditacije, joge i plesa (MOVE2Collective).
https://www.facebook.com/move2collective
SOUND HEALING: Svemir Vranko
Zvukoterapeut, učitelj meditacije i yoge za kralježnicu, suosnivač Verbasana yoga studija. Pokretač Chakra Dance yoga metode i pionir zvukoterapije u Hrvatskoj. Autor je knjige: " Zvukoterapija – dobre vibracije za dušu i tijelo" s Om Didge glazbom za zvukoterapiju. Pokretač je YOMAD – Yoga, Music and Dance Festivala.U Verbasana yoga studiju vodi zvukoterapiju, yogu za kralježnicu, Kids yogu, satove pranayame i meditacije, te Chakra Dance Yogu.
Smjernice za Ecstatic Dance:
~ Povezujemo se sa zajednicom kroz ples i zajednički krug na početku i kraju plesa
~ Podržavamo svjesno, sigurno i prirodno okruženje – bez alkohola, droge, pušenja
~ Ne koristimo verbalnu komunikaciju za vrijeme plesa, povezujemo se kroz kretanje, energiju i vibracije
~ Vodimo brigu o prostoru i jedni o drugima
~ Plešemo sami ili s drugima, poštujući njihove granice
~ Mobitele i cipele ostavljamo izvan plesnog podija
~ Sa sobom nosimo vodu i slojevitu odjeću
~ Ne ograničavamo i ne prosuđujemo sebe i druge – ples je jedinstven izraz svakoga od nas 🙂
Uica grada Vukovara 271, 10000 Zagreb, Croatia
Ecstatic Dance – 3 Simple Guidelines
1. We Dance without shoes (or: We Dance Barefoot)
This allows us to connect more fully with the Ground (socks are OK)
If you have a physical condition that you need dance shoes, then OK
2. We Dance without words (or: We Dance with Body Language)
This makes it easier to be in a Meditative State
No Verbal Instruction from the Facilitators
No Talking from the Dancers
3. We Dance as We Are
No Drugs/Alcohol, No Phones, No Camera/Video, No Scents, No Expectations, No Judgements, No Shoulds, No Oughts… Just Be Yourself; With Respect for Ourselves, the Space, and One Another.