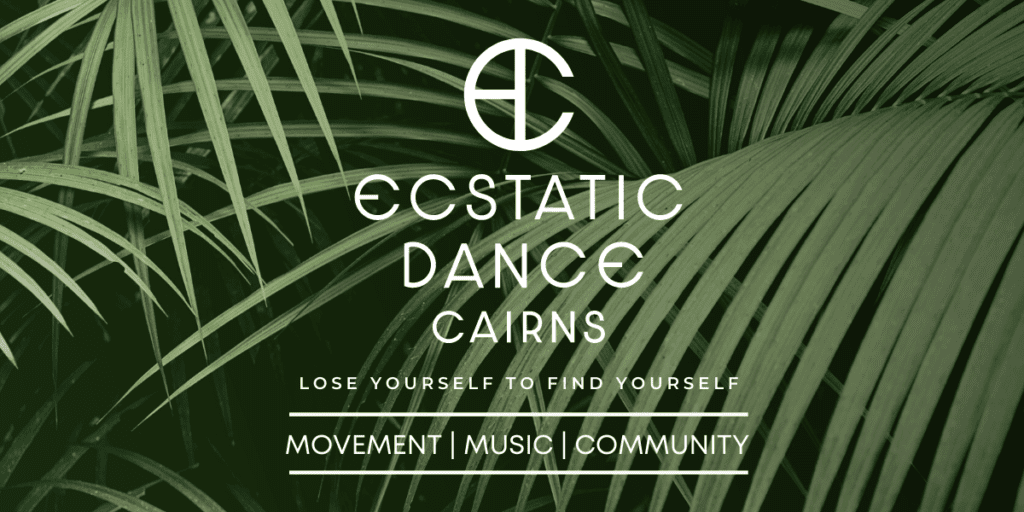 Tropical Australia's Official Ecstatic Dance Community, Ecstatic Dance Cairns is a rotation of experienced and emerging, local and nationally recognised ecstatic dance DJs & artists, providing a 2-hour dance journey through a multi-genre array of music for your dose of release & freestyle freedom!
Ecstatic Dance is the free-form dance practice that originated in Hawaii over 20 years ago and now within Australia, Cairns is one of the official home-places of this free-form movement + high vibe music space, which includes other official Ecstatic Dance homes in Sunshine Coast, Brisbane, Byron Bay and Melbourne. Music played here is non-commercial and our ED'DJs play on a professional sound-system.
WE ARE AN ALL ADULT AGED SPACE, and all abilities are welcome. Please remember, you do not have to be a 'dancer' – to dance!
Held in a safe and welcoming environment…. come as you are, shake of your fortnight, be in your body and connect with community.
Together, we simply follow the 3 guidelines to have a good time, which are:
1. No words are used on the dance floor – we speak with the language of our bodies only here. Please do not talk anywhere on the main dance floor. This respects everyone in the space for their own dance journey.
2. No shoes – we dance barefoot or if you are needing more comfort, that is fine, however please designate your own ED specific/clean indoor shoes just for this space and event.
3. Move as you please ~ dance as you feel. There is no wrong or right way to Ecstatic Dance. This movement space for adults is your opportunity to explore the edges, get our of comfort zone and feel the freedom.
Benefits of Ecstatic Dance include:
~ a greater sense of pleasure and connectedness to life
~ a sense of belonging in community
~ ability to be in the body and not in the mind relieving anxiety, stress and worry, in daily life
~ presence, purpose and passion – alivening vigor on the dance floor and into our lives, for life!
ECSTATIC DANCE CAIRNS IS:
– An adult only space
– 100% alcohol, drug & smoke-free space. We also arrive clear and sober, and free from any intoxicants.
– A phone free space (no photos, videos, pictures are allowed here. Phones away and off when arrive please)
– free of strong perfumes and scents including essential oils
– A non-judgemental space to be yourself, in respect to all others in the space and our environment.
– Non discrimination dance. No need proof vax status either. All together we dance.
WHERE WHEN & HOW MUCH?
We dance twice per month, in Cairns – at Edge Hill near Tanks indoors on a Saturday night, and Smithfield on a Sunday morning outdoors at the grass area at Skypark by AJ Hackett (during the dry season). This enables us to enjoy the benefits which community love – which are Saturday nights in a dim-lit space, and an alternative to 'pubs clubs and the rest'…. and Sunday mornings moving amongst the FNQ elements we love so much, outdoors, naturally.
All event tickets are available for purchase well in advance to our dance time; and do sell out (especially in the Edge Hill space, as we have limited venue capacity of max 40).
HOW IT FLOWS?
SATURDAY NIGHT @ EDGE HILL:
6.30 arrival – check-in & socialise
6.45 arrive no later | ground & stretch – music on
7pm opening circle
7.05 Ecstatic Dance generally a 9pm finish
SUNDAY MORNING @ SMITHFIELD:
9am arrival (please no earlier) check-in @ door & socialise or ground & stretch
9.15am open welcome + DJ begins, generally a 11am close
TO BRING WITH YOU:
~ water bottle
~ towel/sarong or yoga matt if you wish to lye down at any point including resting at end
~ hat if dancing outdoors/sunscreen if need
THERE IS PLENTY OF PARKING ON BOTH COLLINS AVENUE EDGE HILL AND SMITHFIELD SKYPARK. Carpooling with others is recommended if can.
See you on the dance floor!
★ Ecstatic Dance Cairns ★
Tropical Australia's Official Ecstatic Dance Community