Ecstatic Dance Athens Ga is a cozy conscious community of kind and expressive souls.  We have only just begun holding Movement Ceremonies here in the Classic City but we are off to a great start in establishing ourselves and serving our community.
We are a safe, sober, soulful and inclusive family.  We are LGBTQIA+ affirming and celebrating.  We welcome all bodies, identities, creeds, cultures and energies.
We dance at WORK.SHOP at 60 Winston Drive #9 Athens GA.  It's a cozy space with a wonderful dance floor designed just for movement.
We dance once a month on Saturday, dates can vary.  The best way to keep up with our Ceremonies is to follow us on Instagram or go to our Website.  Use our link tree to navigate to our weblink linktr.ee/ecstaticdanceathensga
Once a month, dates vary. Next dance 07-15-23
160 Winston Drive #9 Athens Ga 30601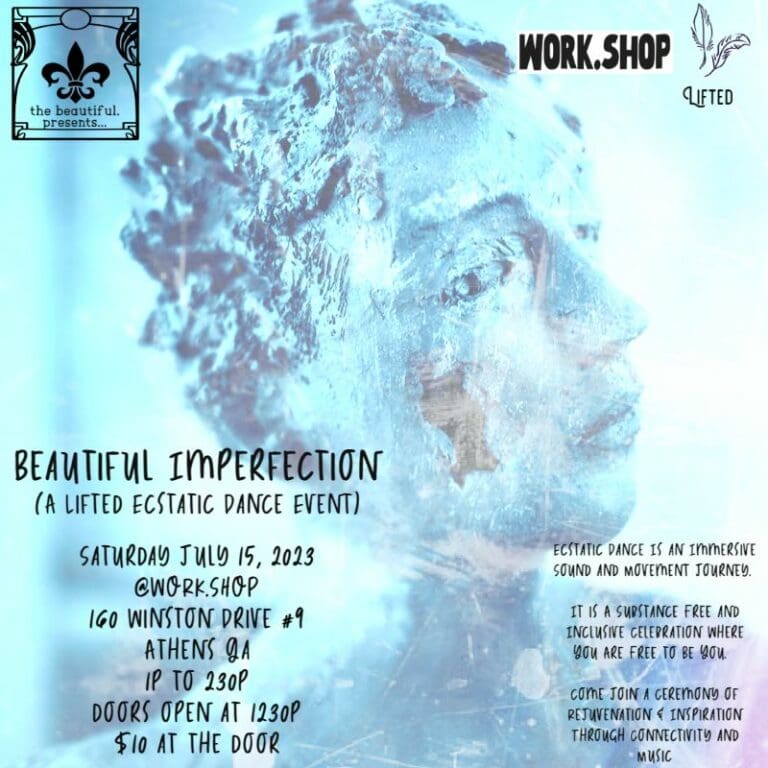 DJ Charlieflower
July 15, 2023
"Beautiful Imperfection
Ecstatic Dance – 3 Simple Guidelines
1. We Dance without shoes (or: We Dance Barefoot)
This allows us to connect more fully with the Ground (socks are OK)
If you have a physical condition that you need dance shoes, then OK
2. We Dance without words (or: We Dance with Body Language)
This makes it easier to be in a Meditative State
No Verbal Instruction from the Facilitators
No Talking from the Dancers
3. We Dance as We Are
No Drugs/Alcohol, No Phones, No Camera/Video, No Scents, No Expectations, No Judgements, No Shoulds, No Oughts… Just Be Yourself; With Respect for Ourselves, the Space, and One Another.