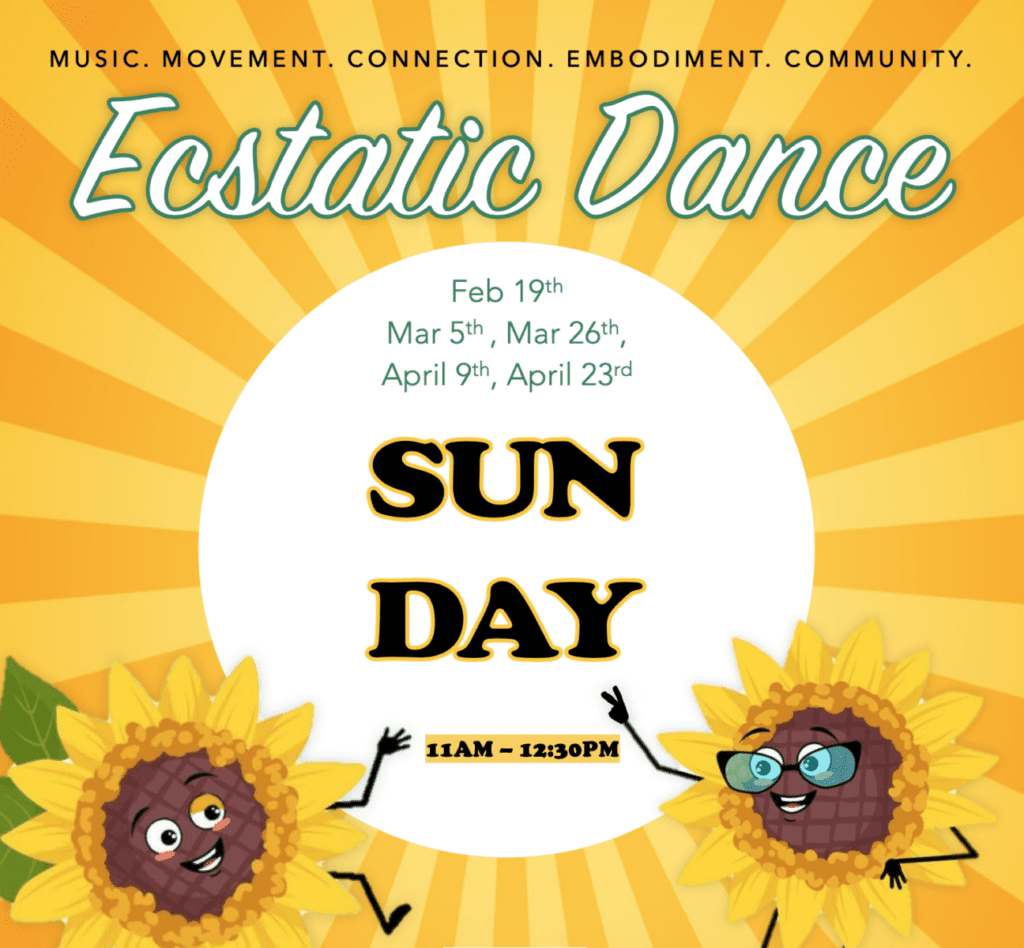 Ecstatic Dance Arroyo Grande
Happening twice a month, our growing tribe is gathering in the Arroyo Grande/Oceano area for a wild, tender, and spirited ecstatic dance. We hope to see you there.
Enjoy the sunshine this Sunday and join us @11AM a playful and wildly Ecstatic Dance event. We often close with a Sound Bath. Upon arrival, you can enjoy sipping on some delicious hot ceremonial cacao — prepared with intention and to be consumed with your intention. Yummy.
We are asking for a $5 donation to cover event expenses.
(Cash & Venmo accepted)
NEW TO ECSTATIC DANCE?
First off, welcome! You're in for a treat. Jump in. Ecstatic dance is a rapidly growing phenomenon around the world. The experience is fun, healthy, tender, wild, healing, and free form. Common outcomes of a dance? People tend to leave with deeper peace, love, unity, and respect for themselves and the world around them — paired with deeper wisdom, strength, bravery, and an added playful energy. All this from just dancing like no one is watching? Without the judgement of others? Dancing without limits? With nothing but love and acceptance around you? Watching strangers start becoming a tribe with one heck of a vibe. Then people move on with their week, refreshed? Yup. It's pretty amazing. I remember my first time attending an Ecstatic dance. At first, I was a bit timid, closed, yet very curious. Something about it felt so human, organic and powerful. And then I moved my feet a bit to the beat, followed by other parts of my body, identified and challenged my own ego, stopped thinking, started to let it out, occasionally watched others move through these waves too — finding their divine essence, playfulness, tribal strength, healing, confidence, exploration, independence, opening. Good old fashion fun. It's just a ton of fun.
THE MUSIC?
Our resident DJ, https://www.minusthedj.com/, will provide a dynamic musical journey to support movement and self-inquiry. Expect a range of styles and tempos. From hard-hitting electronic (Tribal House, Bass, Trance, Trap, Dubstep) to soft pieces that create space to recover, reflect and go inward. It get's loud and soft, just like the natural rhythms in life.
STANDARD ECSTATIC DANCE RULES:
BE FREE (No judgement)
BE PRESENT (No phones, No intoxication/alcohol)
BE EMBODIED (No talking, No shoes)
visit https://www.minusthedj.com/ for address & details
Ecstatic Dance – 3 Simple Guidelines
1. We Dance without shoes (or: We Dance Barefoot)
This allows us to connect more fully with the Ground (socks are OK)
If you have a physical condition that you need dance shoes, then OK
2. We Dance without words (or: We Dance with Body Language)
This makes it easier to be in a Meditative State
No Verbal Instruction from the Facilitators
No Talking from the Dancers
3. We Dance as We Are
No Drugs/Alcohol, No Phones, No Camera/Video, No Scents, No Expectations, No Judgements, No Shoulds, No Oughts… Just Be Yourself; With Respect for Ourselves, the Space, and One Another.