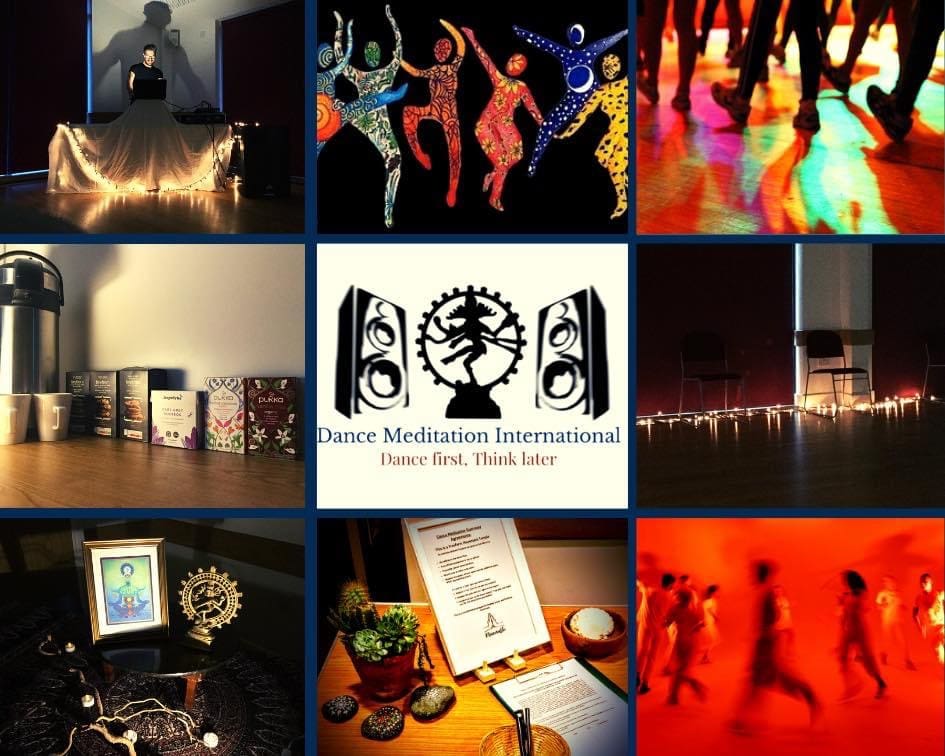 Dance Meditation International
Combine fitness with mindfulness in style whilst having fun and meeting a beautiful tribe of lovely local movers!
Alex at Dance Meditation International will be transforming Pennant Community Centre, near Aberaeron, into a magical dance cocoon on Fridays 6-8pm ready to hold space for you through an exploration of movement as we stomp our feet, shake our bodies and jump around the dance space!
The night will begin with an opening circle and warm up as we ground, breathe and connect with our fellow dancers. After dancing for about an hour and a half, we will guide you into deep relaxation before ending the night with a closing circle and optional shared tea.
Dance Meditation combines dance and meditation to bring you out of your body and thoughts and into the moment.
We play carefully selected tracks from a range of genres that will allow you to go on a journey within. We provide warm ups, cool downs, gentle lighting, amazing music and a cup of tea to finish.
At Dance Meditation International we don't practice particular dance steps, rather, we allow our bodies to move us with complete freedom as we are taken on a magical musical journey.
No previous dance or meditation experience necessary.
Events are subject to a minimum number of 3 attendees so bring a friend!
Minimum advanced booking before scheduled classes.
£10 per session minimum exchange
10% reduction when booking 4 classes as a block- £36
Book your place by email:
dmedint@gmail.com
or call 01545574686
Learn more at:
https://www.joyfullifeguide.com/dance-meditation
What will the evening look like?
– Opening & closing circles
– Intention setting
– A guided warm-up
– 1.5 hours ecstatic dance
– Herbal teas
– An opportunity for open-hearted conversations & building community
What to wear/bring?
– Comfortable, non-restrictive clothing
– A water bottle
– A mug
– A yoga mat, blankets, cushions &/or anything you need to be comfortable for deep relaxation
– Journal & Pen
Some feedback from our online dance meditations:
"Dance Meditation with Alex is a life saver for me. I absolutely love the sessions which allow me to dance my own process, to absolutely fabulous soundtracks. It is the best form of meditation. Being an experienced Conscious Movement Dancer for the last Decade or so, I can safely say Alex is offering one of the best spaces and practices I've been to. Hugely grateful to have found him and to have this essential support back in my life. Thank you Alex, you truly Rock! 😎⭐️🙌"
"My first Dance Meditation International class was heavenly… I felt energised throughout and blissfully calm at the end of it. The music selection was brilliant. I enjoyed every minute!😇"
Q&A
What time do your dance meditation sessions finish?
We normally try to finish dancing at 9pm, unless otherwise advertised. However, free tea is available afterwards. We suggest being present for this as it's a very nice way to relax after the session.
Will I have to dance with other people?
We never say that you need dance with other people, but you can if you want. We ask that you are sensitive towards other people and use your judgement as to whether they want to keep to themselves. As we hold the space we want to provide you with the freedom to dance as you wish.
What kind of music do you use?
We use music from a range of sources. From classical, house and alternative, to electro-swing, folk, and trance. If it has the right energy, we'll play it.
What should I wear?
Anything you wish- but it will need to be comfy! We also suggest layers as it can may get hot. We suggest dancing barefoot but you may want to wear indoor trainers if you prefer.
What is your age limit?
Whilst our dance meditation sessions are for over 16s only, We do not have an upper limit!
Do I have to follow set dance steps or instructions?
We will not give you instructions on how to dance. You can dance however you wish.
Will there be a lot of talking during the session?
We request that words are left behind during the session. You may cry, laugh or shout, but, as in meditation, try to lose yourself in the music as you go deeper.
Do I have to dance for the whole session?
You can sit and meditate or lie down at any time in the session. We only ask that you do so at the edges of the space, leaving the middle area unobstructed for those who wish to dance. You may wish to bring a blanket or yoga mat to use at the edges of the room when sitting or lying.
What is your cancellation policy?
If you fail to attend a session that you have booked we cannot offer you a refund and you will be charged for your place.
Pennant Community Centre, Pennant, Llanon, Ceredigion SY23 5PA
Ecstatic Dance – 3 Simple Guidelines
1. We Dance without shoes (or: We Dance Barefoot)
This allows us to connect more fully with the Ground (socks are OK)
If you have a physical condition that you need dance shoes, then OK
2. We Dance without words (or: We Dance with Body Language)
This makes it easier to be in a Meditative State
No Verbal Instruction from the Facilitators
No Talking from the Dancers
3. We Dance as We Are
No Drugs/Alcohol, No Phones, No Camera/Video, No Scents, No Expectations, No Judgements, No Shoulds, No Oughts… Just Be Yourself; With Respect for Ourselves, the Space, and One Another.