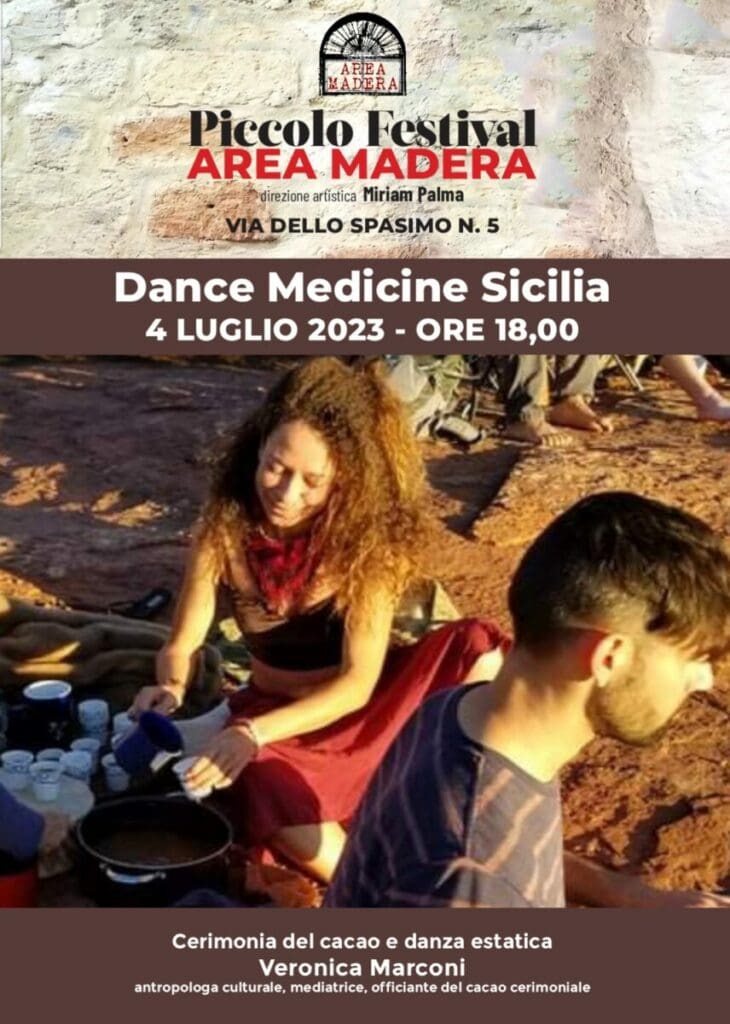 Palermitani, siciliani, gente della penisola e straniera, siete invitati ad unirvi a noi per una serata unica all insegna del cacao, connessione, autenticità e danza estatica.
Veronica ha portato del puro e delizioso cacao dal Guatemala. Il cacao è ritenuto sacro dalle popolazioni Maya per il suo potere di risvegliare un senso di profonda interconnessione con tutto ciò che esiste, in quanto stimola direttamente il corazon 💜
Durante il cerchio del cacao ci rilassiamo in una meditazione guidata durante la quale sorseggiamo il cacao preparato da Veronica. La cerimonia è ideata per armonizzare l energia del gruppo, abbassare il volume del chiacchierio mentale, ed aprire spazio al cuore e la nostra autenticità. La danza estatica è un viaggio del corpo e dello spirito con 3 regole fondamentali: niente scarpe, niente parole, assicurarsi del consenso nel ballare con altri.
🌹 Arrivo: 17:45-18:00
🌹 Cerchio del cacao con cerimonia : 18:00
🌹 Ecstatic dance: 19:15
🌹 Chiusura cerchio e abbracci di saluto: 20:45
Per prender parte al Cerchio del cacao si prega di arrivare entro le 18:00. Si consiglia vivamente di prender parte a cerimonia + danza, ma è possibile arrivare solo per l ecstatic dance dopo le 19.
Da portare: mente e cuore aperti, una tazza per ricevere il cacao, e 15 euro per l evento. Se non ancora membri di Spazio Madera portare 5euro per il tesseramento annuale. Si consiglia di non assumere alcolici o sostanze stupefacenti in quanto l'intenzione è di esperire il cacao e la nostra stessa energia senza interferenze. L evento è aperto a tutti/e, non è necessaria nessuna precedente esperienza.
Vi aspettiamo 💜✨
Area Madera, piazza Magione, Palermo
Ecstatic Dance – 3 Simple Guidelines
1. We Dance without shoes (or: We Dance Barefoot)
This allows us to connect more fully with the Ground (socks are OK)
If you have a physical condition that you need dance shoes, then OK
2. We Dance without words (or: We Dance with Body Language)
This makes it easier to be in a Meditative State
No Verbal Instruction from the Facilitators
No Talking from the Dancers
3. We Dance as We Are
No Drugs/Alcohol, No Phones, No Camera/Video, No Scents, No Expectations, No Judgements, No Shoulds, No Oughts… Just Be Yourself; With Respect for Ourselves, the Space, and One Another.