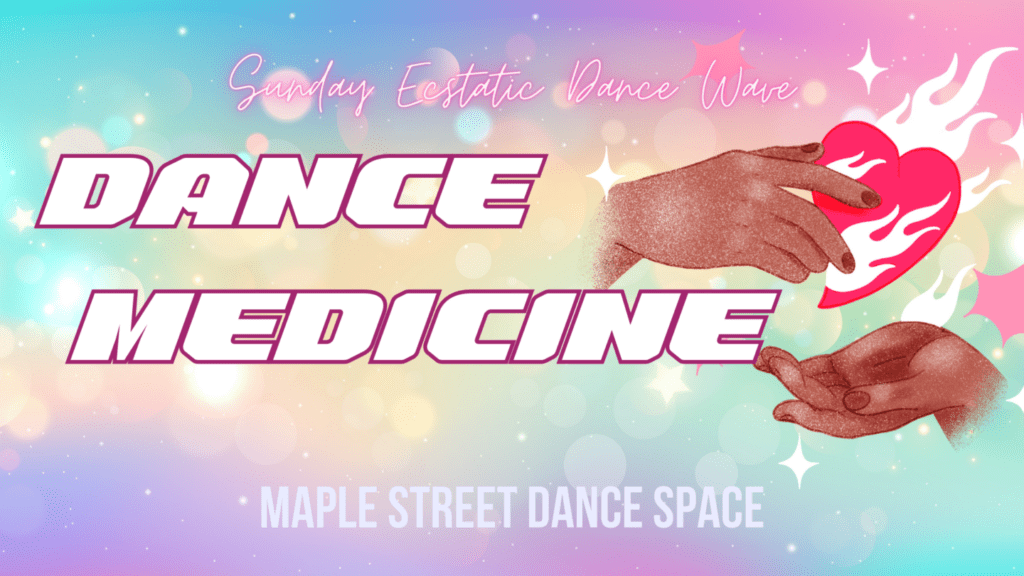 Ecstatic Dance invites participants to embody all parts of themselves and explore free-form movement in the presence of community. There is no instruction, and dancers are invited to stay connected to their inner experience. Contact and dancing with others are optional only if consent is established each time, and it is always okay to decline interaction with other dancers.
The mission of Dance Medicine ABQ is to provide a weekly, trauma-informed, ecstatic dance container with live, high-quality music and sound. Our goal is to support the knowledge and experience of somatic-based movement practices and support community building. Opening and closing circles nurture space for establishing the container, sharing experiences, and insights, and building community.
Dance Medicine Abq meets every Sunday.
Every First Sunday is a Facilitated Contact Dance Improv Jam.
Contact Improvisation is a partner dance style rooted in Aikido. CI is primarily a movement-through listening practice, where traditional partner dance roles of leader and follower are blurred and constantly exchanged. This introductory class will focus on close listening, tuning into our own movement desires, while negotiating points of contact with one or more partners. We will explore social aspects of partner dance such as how to invite, initiate, and bring a close to dances, based on our moment-by-moment needs. The facilitated portion of the class will last for 45 min followed by a 45 min Contact Improv Jam. Seasoned CI dancers are welcome to join and jam during the class that is facilitated for those that are newer to the practice.
Every Second Sunday is  LGBTQ+ Queer Ecstatic Dance.
Every other week is an Ecstatic Dance Wave for EVERYBODY!
When: Every Sunday @ 12-1:30pm
Where: Maple Street Dance Space
3215 Central Ave NE
Albuquerque, NM 87106
$15-25 Donation Venmo: @Zhenya-Novareign
No one truned away
Please arrive no later than 12:05pm for the opening circle.
Some basic agreements for the container:
1. Refrain from talking
2. Attend in a sober state
3: Avoid wearing strong scents (Be clean!)
4: Be aware and respect the space of fellow dancers
5. Obtain clear consent each time before making physical contact with another dancer
6. No shoes in the dance space unless there is a special need
7. No cell phone use or taking photos/video
I would like to try for this to be a kid-friendly space. Children are welcome as long as they are participating and keeping the space non-verbal. I ask that parents notice if the space is becoming disrupted, and step in to keep kids engaged on a level that allows for everyone in the container to stay dropped into their process. Consider having options for kids such as books, art supplies, and items that support sensory regulation. As the community develops, please feel free to share your experience and hopefully, we can meet the mission of this space while including kids. If we need to collectively create other agreements and boundaries around this in the future, we will update this.
Please send questions, feedback, comments, and DJ inquiries directly to zhenya@goddess-alchemy.com
$15-$25 No one turned away.
Ecstatic Dance – 3 Simple Guidelines
1. We Dance without shoes (or: We Dance Barefoot)
This allows us to connect more fully with the Ground (socks are OK)
If you have a physical condition that you need dance shoes, then OK
2. We Dance without words (or: We Dance with Body Language)
This makes it easier to be in a Meditative State
No Verbal Instruction from the Facilitators
No Talking from the Dancers
3. We Dance as We Are
No Drugs/Alcohol, No Phones, No Camera/Video, No Scents, No Expectations, No Judgements, No Shoulds, No Oughts… Just Be Yourself; With Respect for Ourselves, the Space, and One Another.