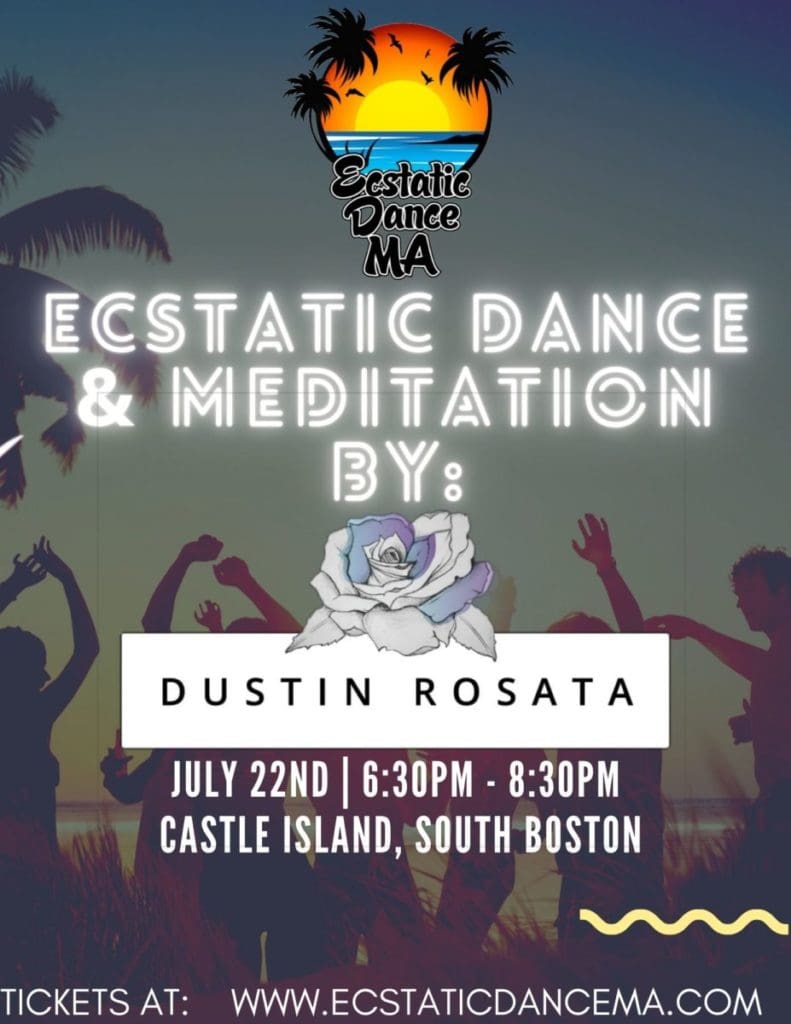 Castle Island Ecstatic Dance
Come join us on the beach of Castle Island as we send you into paradise!
Every event we have different offerings from cacao ceremonies, group breathwork, sound healings, drum circles, meditations and of course:
A live DJ playing an ecstatic dance set on the beach (this is always happening)
These are family-friendly events (we even have limited free kids tickets for each event) and all are welcomed to join in our fun, safe space.
If you'd like more info, videos of past events, or to purchase a ticket, please visit our website at www.EcstaticDanceMA.com or check out our Instagram @EcstaticDanceMA
Don't forget to use code BOSTONCALENDAR for $ off every ticket!
Events run from 6:30pm – 8:30pm tentatively, ending with a relaxation session as the sun sets over the Boston skyline to the west! It truly is magnificent!
Questions? Hit our instagram or email: EcstaticDanceMA@gmail.com
Ecstatic Dance – 3 Simple Guidelines
1. We Dance without shoes (or: We Dance Barefoot)
This allows us to connect more fully with the Ground (socks are OK)
If you have a physical condition that you need dance shoes, then OK
2. We Dance without words (or: We Dance with Body Language)
This makes it easier to be in a Meditative State
No Verbal Instruction from the Facilitators
No Talking from the Dancers
3. We Dance as We Are
No Drugs/Alcohol, No Phones, No Camera/Video, No Scents, No Expectations, No Judgements, No Shoulds, No Oughts… Just Be Yourself; With Respect for Ourselves, the Space, and One Another.