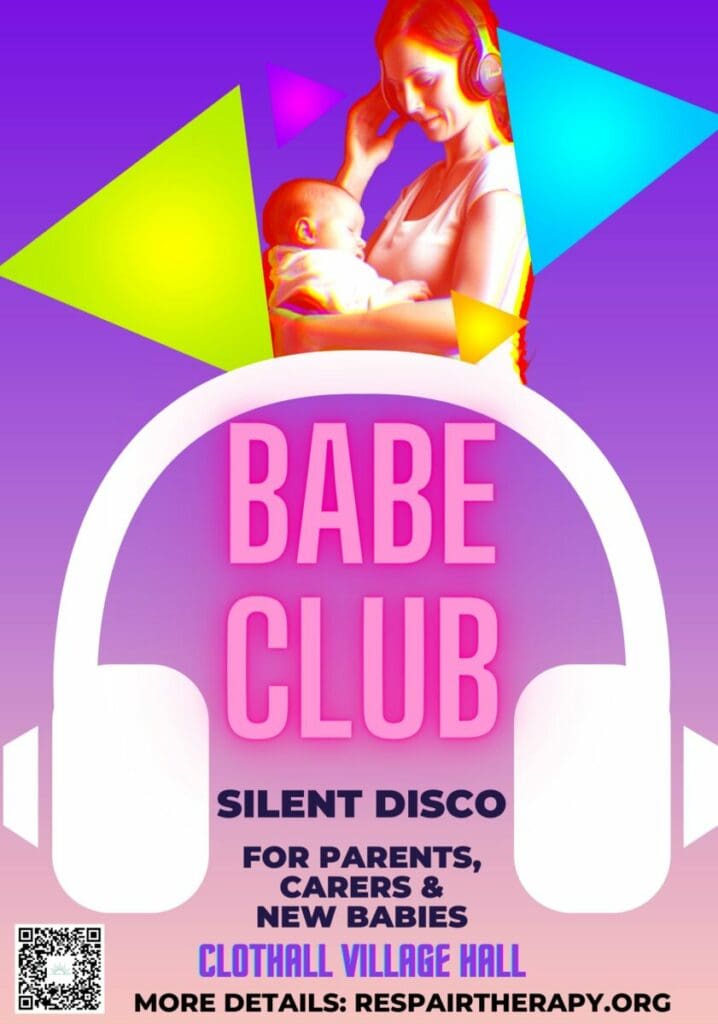 Join our body-positive, inclusive, judgement-free, dance-based support group for parents of new babies run by ex-BBC radio producer and ex-NHS dance movement psychotherapist Debbie Sheringham.
Dance can be a powerful tool for combatting loneliness and promoting togetherness. New parents and carers need a chance to let loose, have fun and be around other people who are going through the same sleepless nights and anxieties.
These weekly, daytime silent discos for parents/carers (of all genders) and new babies (under 6 months) provide a fun and playful space for new parents to connect and let loose.
The idea is to strap your baby in your usual sling, slap on some headphones and shake your tail feather!
There are no steps to learn, no pressure to dance if you don't want to, and there are two different channels of music, so if you don't like the music on one channel, you just switch to the other one. PLUS – you don't need to worry about damaging your baby's hearing. Hopefully, they will sleep through the whole thing.
How it works…
⏰ 9.45-10.15 ⏰ 
WELCOME AND WARM-UP
At the start of each session, parents are encouraged to come in, feed/change their babies and get themselves and their little ones comfortable. The facilitator, Debbie, will introduce herself and walk you through what to expect. Debbie will lead a gentle warm-up to help you and your baby to settle into movement. Debbie will encourage each parent to decide what they want to get out of that day's session, whether that be to dance their socks off and work up a sweat, to sit and watch, or to explore something specific.
⏰10.15-10.45⏰
SILENT DISCO
This is when parents get to let loose and do what they feel. They can dance, they can sing, or they can sit back and watch and soak up the atmosphere. Debbie will provide two different genres of music on two different channels, so parents can explore dancing to different beats with their little ones.
⏰10.45-11.15⏰
COOL-DOWN AND CHAT
At this point in the session Debbie starts to wind-down the music and encourage everyone to cool down a bit. Once the music has stopped (at around 11am) there is a chat  about what the experience was like. How did it feel to dance with your baby and with others? Did you learn anything about yourself?
🌈 Accessibility: Welcoming All with Open Arms 🌍
At Babe Club inclusivity is at the heart of everything we do. We strive to create an environment that is accessible and accommodating for all individuals, regardless of their abilities or protected characteristics.
Clothall Village Hall, our venue for Babe Club, is wheelchair accessible. Furthermore, we are committed to making reasonable adjustments to meet the needs of individuals with disabilities or any other specific requirements. If you or someone you know requires additional support or has any concerns regarding accessibility, please don't hesitate to contact us by emailing admin@respairtherapy.org. We are here to have a conversation and explore how we can make Babe Club a welcoming space for everyone.
As an LGBTQ+ affirming, anti-racist, and anti-oppression organisation, we stand firmly against discrimination of any kind. Babe Club embraces diversity and aims to foster an inclusive atmosphere where all participants can feel safe, respected, and celebrated.
⌚ DATE & TIME: 09.45am-11.15am on the following dates: 19 June, 26 Jun, 3 Jul, 10 Jul, 17 Jul. There will be more dates announced for the autumn. 
📍 VENUE: Clothall Village Hall, SG7 6RE
💰 Pricing and Registration 💰
To give you a taste of the Babe Club experience, we are offering a complimentary taster session. Afterwards, each weekly session is £5 and you can pay on the door.
Clothall Village Hall, Baldock, SG7 6RE.
Free taster session then £5 per session
Ecstatic Dance – 3 Simple Guidelines
1. We Dance without shoes where possible.
This allows us to connect more fully with the Ground (socks are OK)
If you have a physical condition that you need dance shoes, then OK
2. We Dance without words (or: We Dance with Body Language)
Limited Verbal Instruction from the Facilitator
3. We Dance as We Are
No Drugs/Alcohol, No Phones, No Camera/Video, No Expectations, No Judgements, No Shoulds, No Oughts… Just Be Yourself; With Respect for Ourselves, the Space, and One Another.