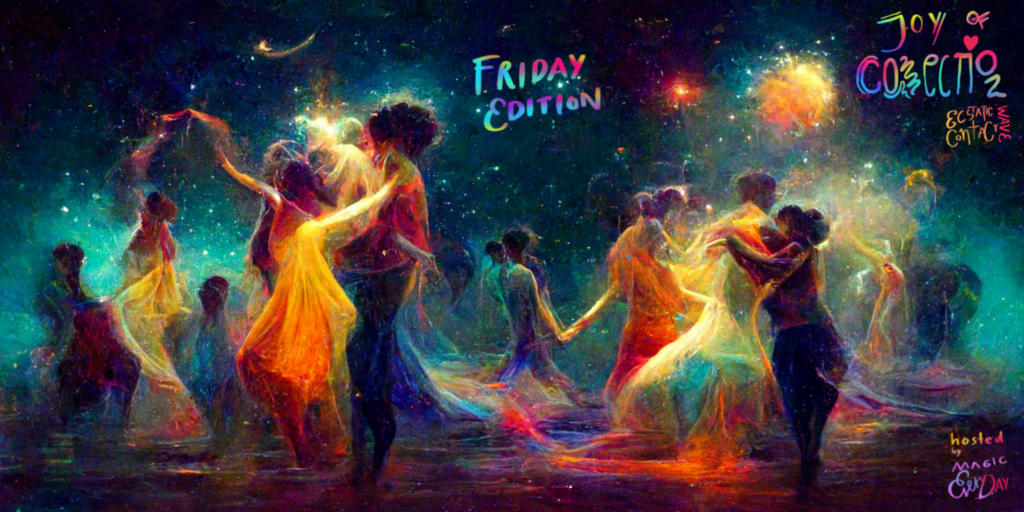 𝐉𝐨𝐲 𝐨𝐟 𝐂𝐨𝐧𝐧𝐞𝐜𝐭𝐢𝐨𝐧 - Friday Edition
English speakers welcome! The gathering is in german and if needed in english. Please use meanwhile google translate for the description above
————- (german version) ——————-
𝗜𝗻𝘁𝗲𝗻𝘁𝗶𝗼𝗻
❤‍💃
 /// Jeden Tag Tanzen ! (*) /// 
❤‍💃
*** 𝗠𝗮𝗴𝗶𝗰 ***
Du kommst an 
 – in einem wundervoll vorbereiten, herzlichen Raum 
. Der besondere Fokus des Abends liegt auf der Verbindung jedes einzelnen mit der ganzen Gruppe und darin, in die Öffnung 
zu mehr Tiefe, Freude, Lebendigkeit und Ekstase 
 zu kommen. – Lass dich überraschen von dem, was aus dir und der Verbindung mit der Gruppe alles entstehen möchte 
…
𝗔𝗯𝗹𝗮𝘂𝗳
 Ritual-Time
Warm-Up into Ecstatic Dance
 Melting-In / Circling
𝗢𝗿𝗴𝗮𝗻𝗶𝘀𝗮𝘁𝗼𝗿𝗶𝘀𝗰𝗵𝗲𝘀
Anmeldung:
https://bit.ly/joc22
 Eintritt: 𝐛𝐞𝐢𝐦 𝟏. 𝐌𝐚𝐥 𝐤𝐨𝐬𝐭𝐞𝐧𝐥𝐨𝐬 
 Ankommen 19.00-19.15 Uhr
 Beginn spätestens 19.30 Uhr
 Ende ca. 23.00 Uhr
 Adresse: 𝐋𝐚𝐜𝐡𝐝𝐚𝐜𝐡 𝐙𝐞𝐧𝐭𝐫𝐮𝐦, Hermann-Lingg-Straße 2, 80336 München
 Zugang: Rückgebäude, linke Glastür, 3 OG
𝗘𝗻𝘁𝘀𝘁𝗮𝗻𝗱𝗲𝗻
… in einem Jahr Gruppen-Forschung mit den Schwerpunkten:
 Verbindung / Tanz / Being Human
 Joy / Lebendigkeit – Feuer & Wildness
 Neugier / Experimentieren
Jetzt öffnen wir uns für die Welt und laden öffentlich ein…Wir probieren das mal aus – und sind gespannt was passiert
. Non-Commercial – out of love and passion.
𝗚𝗮𝘀𝘁𝗴𝗲𝗯𝗲𝗿
// Everyday Magic // … ist eine Gruppe von kreativen und tanzenden Herz-Menschen, die einfach nur tanzen und Magie erleben wollen.
(*) Wir organisieren nur an tanz-freien Tagen! Ansonsten nehmen wir lieber selber an diesen Tanz-Abenden teil 
: Ecstatic Dance Munich, SpiritWave, Miracle Monday, Rumble in the Jungle, Ecstatic Wildness, Kakao- und Ecstatic Dance-Zeremonie, Liebe Tanzen München,…
When there is no other cool dancing...
Ecstatic Dance – 3 Simple Guidelines
1. We Dance without shoes (or: We Dance Barefoot)
This allows us to connect more fully with the Ground (socks are OK)
If you have a physical condition that you need dance shoes, then OK
2. We Dance without words (or: We Dance with Body Language)
This makes it easier to be in a Meditative State
No Verbal Instruction from the Facilitators – there will be a guided warm-up before the Ecstatic Dance
No Talking from the Dancers
3. We Dance as We Are
No Drugs/Alcohol, No Phones, No Camera/Video, No Scents, No Expectations, No Judgements, No Shoulds, No Oughts… Just Be Yourself; With Respect for Ourselves, the Space, and One Another.