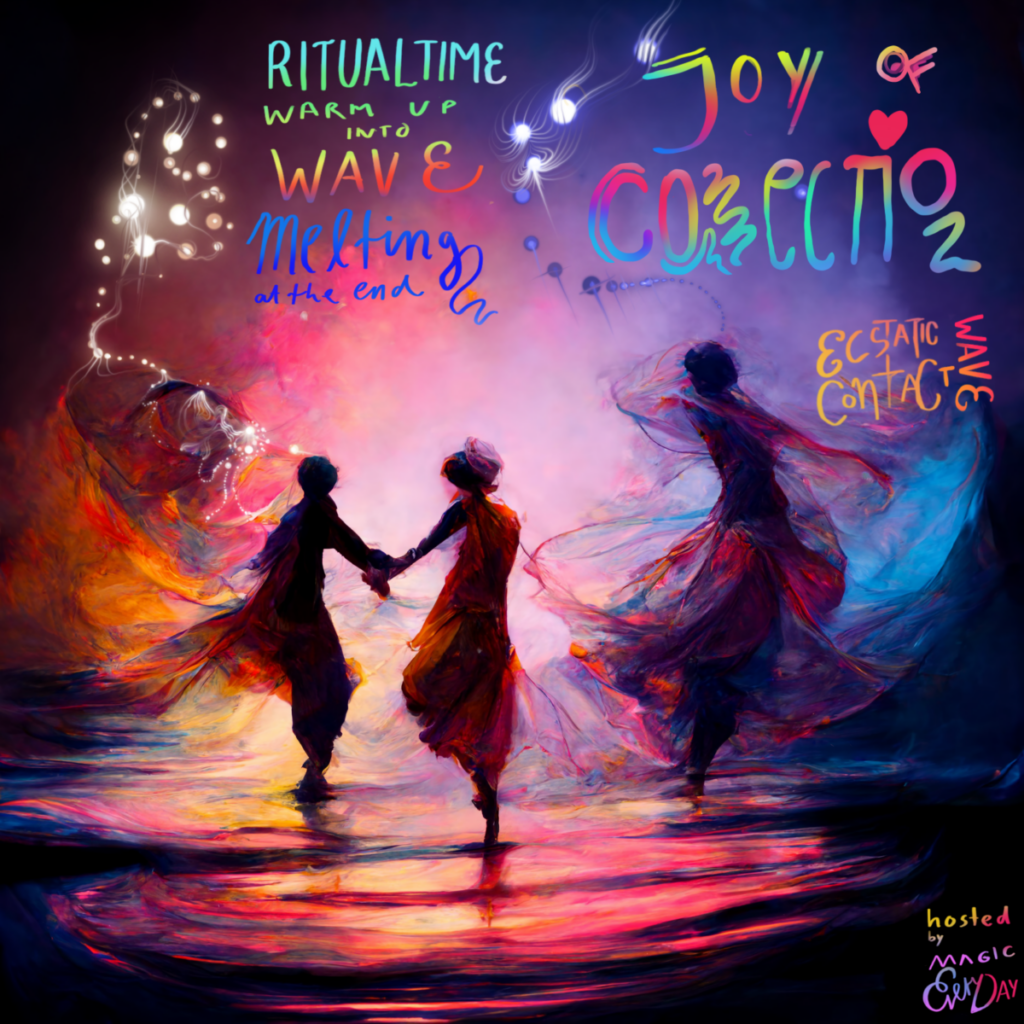 English speakers welcome! The gathering is in german and if needed in english. Please use meanwhile google translate for the description above
————- (german version) ——————-
𝗜𝗻𝘁𝗲𝗻𝘁𝗶𝗼𝗻
❤‍💃
 /// Jeden Tag Tanzen ! (*) /// 
❤‍💃
*** 𝗠𝗮𝗴𝗶𝗰 ***
Du kommst an 
 – in einem wundervoll vorbereiten, herzlichen Raum 
. Der besondere Fokus des Abends liegt auf der Verbindung jedes einzelnen mit der ganzen Gruppe und darin, in die Öffnung 
zu mehr Tiefe, Freude, Lebendigkeit und Ekstase 
 zu kommen. – Lass dich überraschen von dem, was aus dir und der Verbindung mit der Gruppe alles entstehen möchte 
…
𝗔𝗯𝗹𝗮𝘂𝗳
 Ritual-Time
Warm-Up into Ecstatic Dance
 Melting-In / Circling
𝗢𝗿𝗴𝗮𝗻𝗶𝘀𝗮𝘁𝗼𝗿𝗶𝘀𝗰𝗵𝗲𝘀
Anmeldung:
https://bit.ly/joc22
 Eintritt: 𝐛𝐞𝐢𝐦 𝟏. 𝐌𝐚𝐥 𝐤𝐨𝐬𝐭𝐞𝐧𝐥𝐨𝐬 
 Ankommen 19.00-19.15 Uhr
 Beginn spätestens 19.30 Uhr
 Ende ca. 23.00 Uhr
 Adresse: 𝐋𝐚𝐜𝐡𝐝𝐚𝐜𝐡 𝐙𝐞𝐧𝐭𝐫𝐮𝐦, Hermann-Lingg-Straße 2, 80336 München
 Zugang: Rückgebäude, linke Glastür, 3 OG
𝗘𝗻𝘁𝘀𝘁𝗮𝗻𝗱𝗲𝗻
… in einem Jahr Gruppen-Forschung mit den Schwerpunkten:
 Verbindung / Tanz / Being Human
 Joy / Lebendigkeit – Feuer & Wildness
 Neugier / Experimentieren
Jetzt öffnen wir uns für die Welt und laden öffentlich ein…Wir probieren das mal aus – und sind gespannt was passiert
. Non-Commercial – out of love and passion.
𝗚𝗮𝘀𝘁𝗴𝗲𝗯𝗲𝗿
// Everyday Magic // … ist eine Gruppe von kreativen und tanzenden Herz-Menschen, die einfach nur tanzen und Magie erleben wollen.
(*) Wir organisieren nur an tanz-freien Tagen! Ansonsten nehmen wir lieber selber an diesen Tanz-Abenden teil 
: Ecstatic Dance Munich, SpiritWave, Miracle Monday, Rumble in the Jungle, Ecstatic Wildness, Kakao- und Ecstatic Dance-Zeremonie, Liebe Tanzen München,…
When there is no other cool dance...
Ecstatic Dance – 3 Simple Guidelines
1. We Dance without shoes (or: We Dance Barefoot)
This allows us to connect more fully with the Ground (socks are OK)
If you have a physical condition that you need dance shoes, then OK
2. We Dance without words (or: We Dance with Body Language)
This makes it easier to be in a Meditative State
No Verbal Instruction from the Facilitators
No Talking from the Dancers
3. We Dance as We Are
No Drugs/Alcohol, No Phones, No Camera/Video, No Scents, No Expectations, No Judgements, No Shoulds, No Oughts… Just Be Yourself; With Respect for Ourselves, the Space, and One Another.
You are always free to dance how you like and also alone… And we also invite to dance with each others using a warm up and rituals at the beginning.