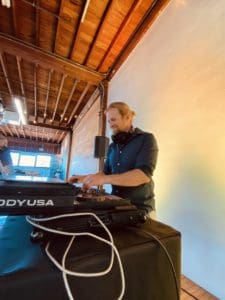 Cam is a DJ, ambient guitarist, and electronic musician based out of Ventura, CA. He is also an experienced yoga and meditation teacher, death doula and graphic designer.
I specialize in mixing organic house, tech house, house music, disco, and various other styles of dance music that elicit the energy that I'm looking to harness in each person dancing at an event.  My sets are structured with the arc of vigorous yoga practice, starting slow, building to an extended ecstatic crescendo, and winding down with mellow, meditative, and ambient chill-out music to allow dancers to integrate their experience.  I perform with the aid of my beautiful wife Lauren who guides dancers into their freest expression of themselves.  Returning dancers tell me my sessions are "like a month of therapy condensed into an hour and a half"– and I couldn't be more proud of that statement.
Cam Prendergast was born in Boulder, Colorado, and grew up in Denver.  He has lived in Australia, Hawaii, and now California.  He graduated from the University of Colorado with a music degree with the intention of becoming a lawyer, but opted to make music instead of litigating it.  After years of teaching yoga and deepening his own practice (asana, meditation, and music) he has finally developed his ideal performance method: a portable, expressive, and psychedelic combination of DJ performance, ambient guitar loops, and live electronic music production.
He lives in Ventura, California where he produces music and performs for yoga classes, ecstatic dances, soundbaths, psychedelic integration and breathwork circles, and a variety of other formats.  He partners with his wife Lauren and gets a helping hand from his Chihuahua-Dachsund, Murphy.