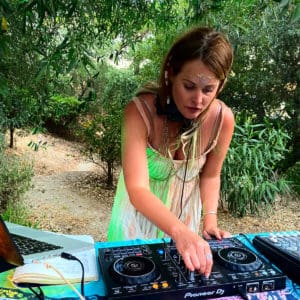 Spain based Ecstatic Dance DJ, Yogini and Vocalist. Providing a musical journey for personal transformation, healing, and empowerment.
Funky, shamanic, devotional, deep, upbeat, with absolutely sublime chaos in the mix. I seek out emotionally rich, energetic, spiritually expansive dance music that will invoke, uplift, and move us to transcendental peaks and into deep inner valleys. My sets are energetic, expansive, and heart-opening. The music is the journey and our movement is the medicine!
I learnt to DJ Hip Hop on vinyl at the Scratch Academy in New York back on 2014. Since then I have worked the wedding scene Djing at over 100 weddings, and hit the club scene in and around Miami, Ibiza and Spain. However after beginning my own yoga journey into teaching I went to my first ecstatic dance at The Pyramid in Thailand and nothing felt more like home. I could hear that this is where my calling was.
I began my own Ecstatic community 'Sacred Spaces' in the south of Spain and haven't enjoyed Djing more. Seeing the high vibrational frequencies land on the dance floor, the type of music that can be played and witnessing people being totally free and expressing themselves fully was something I feel totally at home with.