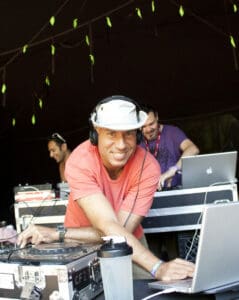 DJ Neerav is one of the most experienced ecstatic dance DJs in the international scene. With over 30's experience as a DJ, he's been holding Ecstatic Dance events since 2007. His approach is to hold a safe, grounded space connected to spirit, that allows for playfulness and spontaneity to unfold.
My preferred sounds are world influenced, with a preference for sacred instrumentals, vocals, tribal percussion, bass grooves, and lyrical / emotive songs that touch the heart.
In my musical selection, I like to bring waves of varying intensity. world elements, acoustic instrumental sounds such as kalimba, hand pan and djembe, and electronic beats all blend seamlessly together, creating a complete experience for the dancers.
Neerav's mission in life is to bring positive vibes to the people wherever he plays. Raised in the tropical clime of the Caribbean with a mixed heritage, he got deep into calypso, reggae and dub from a young age. He moved to Canada when he was 10 years old, studying classical piano and pop guitar, and fell in love with listening to the radio every night. 


Originally a student of post-modern dance and the arts (in New York city), he got started DJing pretty much by accident while traveling in East Asia, when a local promoter invited him to play at a full moon party on the exotic island of Koh Phangan, Thailand. Standing on the stage for the very first time, with a view of the moon reflecting on the sea, sand and palm trees, while the shadows of strangers pulsed to the tunes of his choosing, Neerav was immediately hooked and 'all in'.
When he returned to New York city, then Toronto and Montreal (in the early 90's) he was pursuing music collection with a passion, buying as much vinyl as he could. As the rave scene started to form in Montreal, he decided he could best assist by documenting the events and emerging styles and created the underground magazine Trance 5000, with contributions from local alumni such as Tiga, Gnat, Andrew Interchill, Twin Peetz, and others. 
After a return trip to Goa and the Osho ashram in 1995 (where rooftop and beach parties seamlessly melted into day time meditations), he changed his DJ name to Neerav (his Sannyasin name, which means "Silence"). From there, he became one of Canada's main ambassadors of Trance on the international scene for about a decade or so. He was also highly in demand as a local artist, headlining solo and as a duo (with DJ Nivoc), often to be found at the Om festival (a community-based summer Solstice gathering) and various outdoor parties in Ontario and Quebec (including Moontribe and Eclipse). Around this time, he joined Interchill Records and started exploring downtempo and ambient music, and also began studying shamanism.
He moved to Berlin briefly in the early 2000's after repeated DJ tours in Europe and additionally worked as a road manager for his friend (and first DJ student!) Misstress Barbara.


His love and passion for music took him across the planet in search of the perfect groove, where he headlined alongside Simon Posford (Sphongle/Hallucinogen), Ott, and other top artists of the times as well as playing the ambient stages. Neerav soon became known for his ability to tune into the dancefloor and deliver 'the vibe'.
While touring the North American festival scene in the mid to late 2000's (Earth Dance, Burning Man, Shambhala), he was drawn to the live stages and grew to love the sound of California bands such as Hamsa Lila and Kan'Nal, as well as the sacred and ceremonial music he discovered while traveling in Latin America. From there he transitioned to world fusion sounds (his current main style), inspired by fellow Interchill artist Adham Shaikh and others. He also got into the West Coast inspired mid-tempo bass sounds while producing a night called Groove Temple.
Around 2007 he started holding his own ecstatic dance nights (originally called Dance Jam, now called Spirit Dance), loosely based on a 5 Rhythms approach, facilitating and playing a variety of music. Over time, this evolved into the current iteration of Ecstatic Dance which is more free-dance following the waves of music along with an opening and closing circle.
He was one of the main DJ's for Montreal's large Flow dances, and co-creator and resident DJ for Flow Val David. He also produces "Danse extatique St Henri" (Ecstatic Dance St Henri), and various events throughout Quebec, plays for Yoga studios and festivals, and events out of town as well.
Since 2013 he's been producing his own music, and worked with musicians (Sunya, Taina, Boreal Groove, Oshuna, and others) on live fusion projects for festivals.
In his sets he enjoys bringing a blend of sacred and playful world influences as well as tribal trance and creating a space where people can explore total freedom of movement and expression through dance. 
Neerav is also dedicated to supporting the local and international scene through his musical experience and sharing his knowledge through workshops as well as teaching one on one. 
His main interest these days is cultivating an awareness of Spirit, through music, dance, healing, nature and meditation. He also offers workshops on Conscious DJing.

As a DJ, Neerav deeply enjoys being in service to the dancers and the tribe, building delicious waves to surf on and enter into deeper states of trance, joy, and discovery. Come join him for the opportunity of a lifetime to dive in with your dance, your journey, your tribe!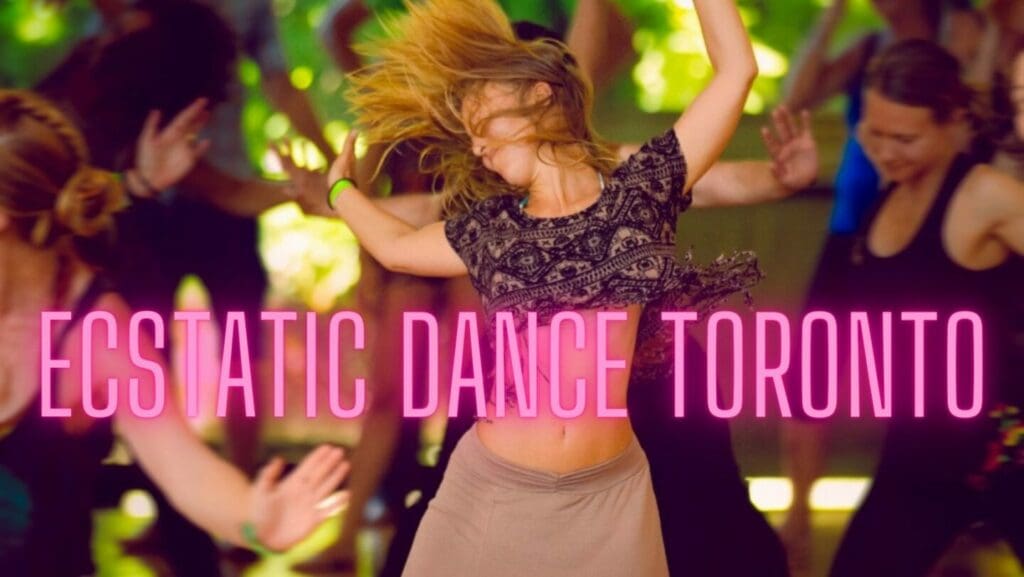 February 23, 2023, 7:00 pm