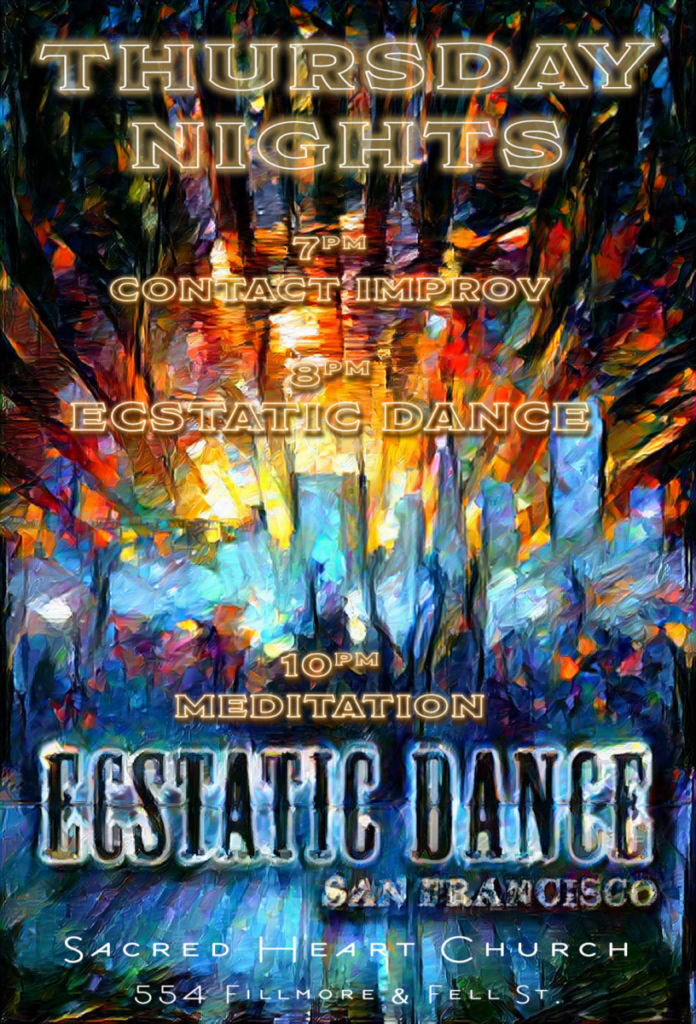 San Francisco Thursday Nights
Every Thursday Night
7pm – Contact Improv
7:45pm – Opening Circle
8pm – Ecstatic Dance
10pm – Meditation
Schedule:
Jan 26 – DJ: Mr. Blank   Contact Improv: Sean T. Fox
Feb 2 – DJ: Tribal DreamZ (Hawaii)   Contact Improv: Merrick Jacob
Feb 9 – DJ: Scott Nice   Contact Improv: Tyler Blank
Price: $25 at the Door (Cash / Card / Venmo)
$20 with Dance Pass (5 for $100)
Free the week of your Birthday!
Location: 554 Fillmore St. (& Fell), SF, CA
Sacred Heart Church (Church of 8 Wheels)
554 Fillmore St., San Francisco, CA
Ecstatic Dance – 3 Simple Guidelines
1. We Dance without shoes (or: We Dance Barefoot)
This allows us to connect more fully with the Ground (socks are OK)
If you have a physical condition that you need dance shoes, then OK
2. We Dance without words (or: We Dance with Body Language)
This makes it easier to be in a Meditative State
No Verbal Instruction from the Facilitators
No Talking from the Dancers
3. We Dance as We Are
No Drugs/Alcohol, No Phones, No Camera/Video, No Scents, No Expectations, No Judgements, No Shoulds, No Oughts… Just Be Yourself; With Respect for Ourselves, the Space, and One Another.