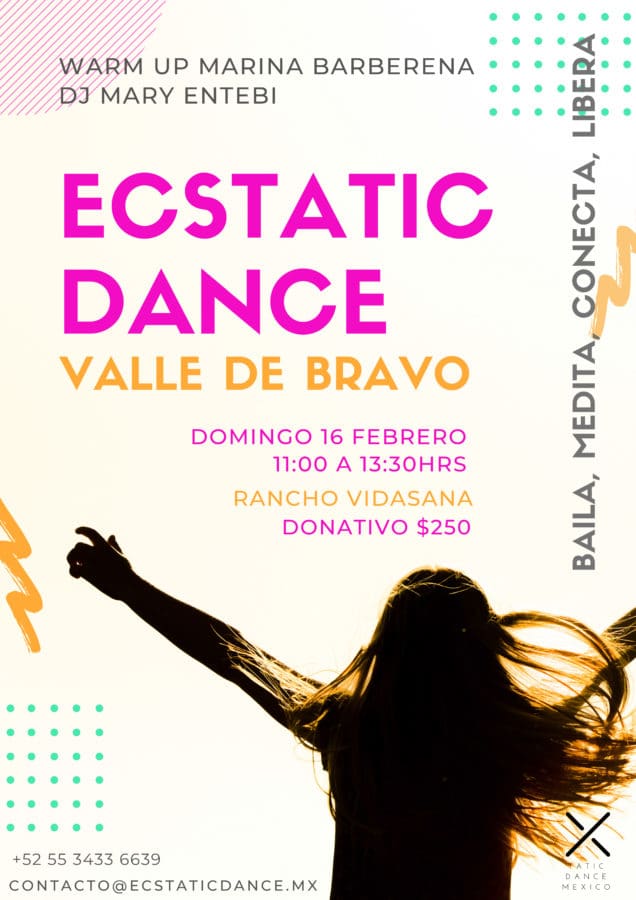 Ecstatic Dance Valle de Bravo
We dance once a month, in a beautiful place in the middle of nature in a Shala inside a Rancho.
We like to create a whole experience with movement and sound. Usually we have some live music at the begining and at the end, sometimes we open the session with some meditation and a few guidelines for new dancers, and sometimes its the music that will invite us to move and live the experience. And sometimes we sing and share our experience in circle for closure or just let the stillness and calm guide us out of the room.
Rancho Vidasana. Loma de Chihuahua, valle de bravo
Ecstatic Dance – 3 Simple Guidelines
1. We Dance without shoes (or: We Dance Barefoot)
This allows us to connect more fully with the Ground (socks are OK)
If you have a physical condition that you need dance shoes, then OK
2. We Dance without words (or: We Dance with Body Language)
This makes it easier to be in a Meditative State
No Verbal Instruction from the Facilitators
No Talking from the Dancers
3. We Dance as We Are
No Drugs/Alcohol, No Phones, No Camera/Video, No Scents, No Expectations, No Judgements, No Shoulds, No Oughts… Just Be Yourself; With Respect for Ourselves, the Space, and One Another.