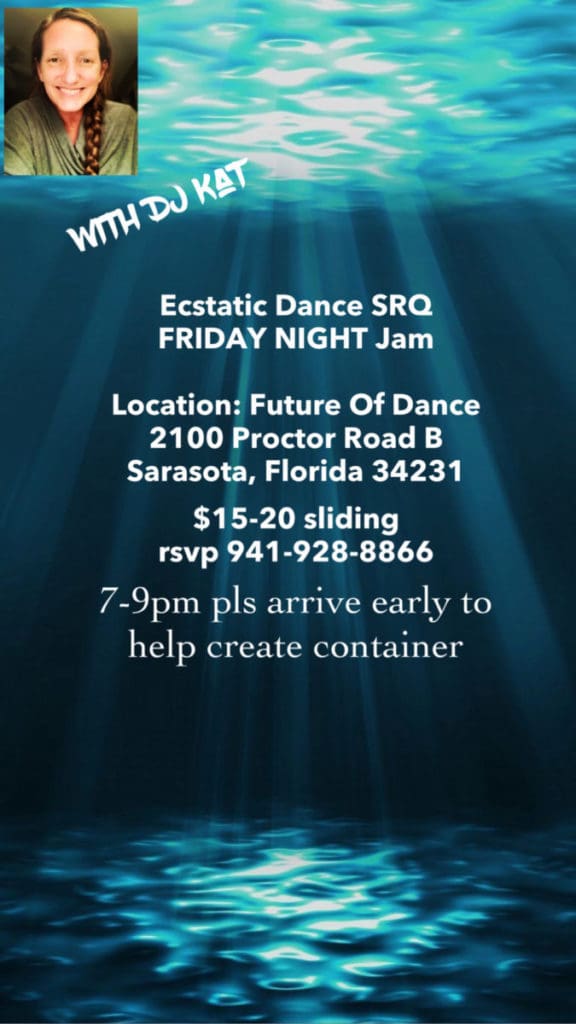 Ecstatic Dance SRQ SARASOTA Friday night Jam
We meet to dance EVERY friday at this new location…..and also on Saturday nights same time DIFFERENT location ( 2924 Hyde Park St- Soul Studios) and on Sunday mornings 10:30-12noon.
We open the space with sharing the guidelines, setting intentions and then a short guided warmup of some kind led by a community member.  Everyone is welcome!
Future of Dance 2100 Proctor Rd Sarasota Fl
Ecstatic Dance – 3 Simple Guidelines
1. We Dance without shoes (or: We Dance Barefoot)
This allows us to connect more fully with the Ground (socks are OK)
If you have a physical condition that you need dance shoes, then OK
2. We Dance without words (or: We Dance with Body Language)
This makes it easier to be in a Meditative State
No Verbal Instruction from the Facilitators
No Talking from the Dancers
3. We Dance as We Are
No Drugs/Alcohol, No Phones, No Camera/Video, No Scents, No Expectations, No Judgements, No Shoulds, No Oughts… Just Be Yourself; With Respect for Ourselves, the Space, and One Another.