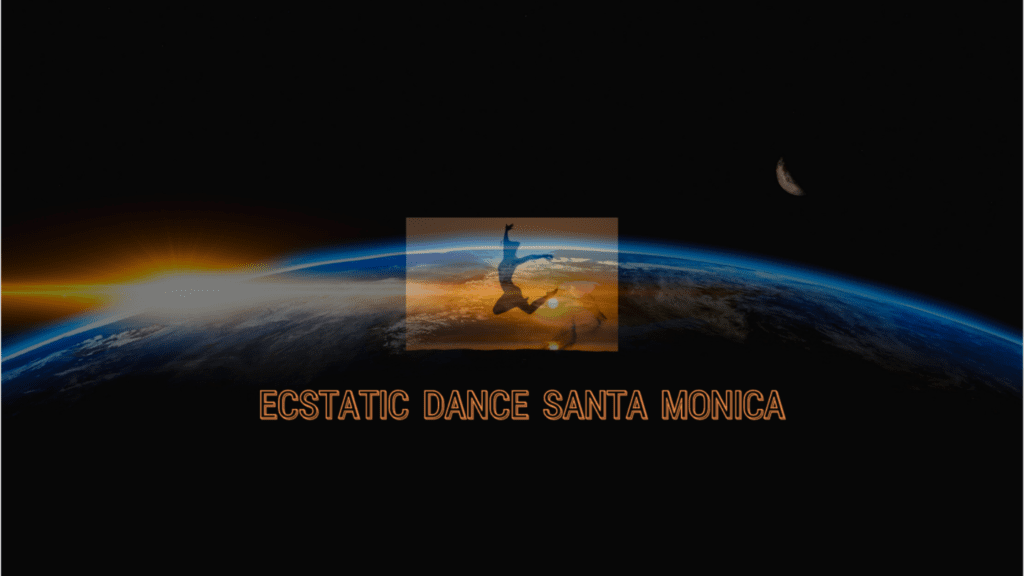 Ecstatic Dance Santa Monica
"Experience Wholeness, Through Movement"
Fridays 7:00p – 10:00p PST
Due to covid regulations and the aftermath, we are currently in the process of arranging space.  Please be patient while we do our best to bring this process to a completion and get to ecstatic dancing together again soon.
We are a free-form movement journey event.  The space we hold is sacred and is a substance-free non-judgmental environment.
The beats we dance to are a combination of deep bass, tribal house, Latin and African beats, down tempo, world beats and ambients sounds.
Our sets are designed to take you on a transformative spiritual journey.  We utilize a combination of methods including 5 Rhythms and the Western Alchemical Circulatio to bring about a meaningful healing experience. 
Our online virtual events begin with a 1 hour warm-up, which includes Internal Harmonic Resonance Practice; movement meditations, embodiment methods, somatic  longevity practices and life-force energy synchronization exercises.
Connect with us at the beginning with warm-ups or drop in when the dancing begins. Leave when you feel ready.
7:00p – Warm-ups, Internal Harmonic Resonance Practice
7:55p – Creating Safe and Sacred Space
8:00p – Ecstatic Dance free-form movement journey
9:30p – Closing and centering
9:45p – Heart shares
9:55p – Lullaby
Cost: Sliding scale $11- $33 or just pay what you can, even the smallest payments can mean a lot.
All payments and donations are appreciated and go towards opening a community center and making offerings to more people.
Venmo:  http://www.venmo.com/Marc-Gomez-5
Paypal:  https://PayPal.Me/MarcG99
Ecstatic Dance Santa Monica welcomes all dancers, movers and especially newcomers who are interested in exploring their own inner rhythms and one's own unique expression of their deeper self through the freedom of inspired movement.
Zoom Link:  https://us02web.zoom.us/meeting/register/tZMscOmgrz8oGNe-kQYUCKxPPF9SUNXOCNsX
Music Link:  https://mixlr.com/ecstatic-dance-santa-monica
Please feel free join us in a safe vessel where you are most welcome to be yourself totally and completely.
You are invited to experience the music in whatever way you feel naturally drawn to. Uniting with your spirit, soul and body and opening up to your own unique and spontaneous movements is encouraged. Allowing the music to inspire your movement or dropping down into the depths of your being and allowing movement to arise from that deeper space is also encouraged. Allowing your feelings and emotions to be expressed through your dance is welcomed, in your own sacred space on the dance floor.
"Find Yourself, Dancing"
Ecstatic Dance Santa Monica
1629 18th St. #7 Santa Monica, CA 90404
Ecstatic Dance – 3 Simple Guidelines
1. We Dance without shoes (or: We Dance Barefoot)
This allows us to connect more fully with the Ground (socks are OK)
If you have a physical condition that you need dance shoes, then OK
2. We Dance without words (or: We Dance with Body Language)
This makes it easier to be in a Meditative State
No Verbal Instruction from the Facilitators
No Talking from the Dancers
3. We Dance as We Are
No Drugs/Alcohol, No Phones, No Camera/Video, No Scents, No Expectations, No Judgements, No Shoulds, No Oughts… Just Be Yourself; With Respect for Ourselves, the Space, and One Another.