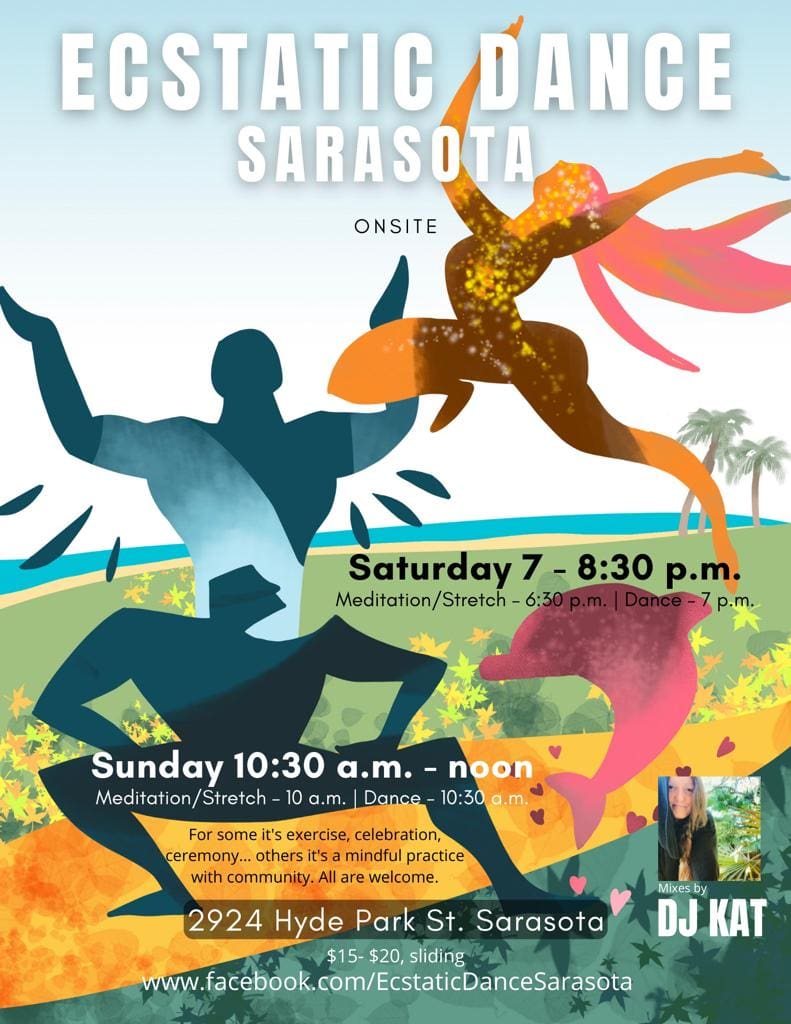 Ecstatic Dance 5 Day Retreat in Sarasota Florida
Ecstatic Dance Global 5 Day Retreat
Saturday April 16 -Wednesday 20th
Let's create space for workshops blending yoga, somatic, meditation, Ecstatic Dance and contact improv! Five days with dances in Soul Studios, evening picnics at Siesta Beach ( famous for it's crystal sand and often rated #1 beach in the country). Each day roughly 8:30am-6pm with dinners on your own or perhaps you'll group together and get to know each other more. There is time to schedule body work from an excellent therapist with over 20 years experience in multiple methods and we will weave in excursions like hiking at nearby Myyaka Park and a 1/2 day trip to Warm Mineral Springs (known for being one of the highest natural mineral content on the planet and a sacred burial site with many bones of dinosaurs were found. Its also considered "the fountain of youth" and place where Ponce De Leon found.)
Workshops in Contact Improv/somatics and Ecstatic Dances will be facilitated primarily by Kelly Atkins. If others would like to guide these sections and share, it's encouraged. Please contact me ahead of time and lets co-create. Our schedule will pace our practices out so everyone can participate, no matter what. All ages, abilities and kids welcome. Kelly has facilitated and co-facilitated 5 retreats to Costa Rica and 15 somatic weeklong in depth trainings in Sarasota. She comes with 30 years experience leading dance/mind/body practices and more than anything ….right now…..She enjoys holding space and connecting/co-creating with community to see "what is possible".
Date: Saturday April 16th starting with our opening circle and setting the container at 5pm and then Ecstatic Dance at Soul Studios. Ending Wednesday April 20th ending with our trip to Warm Mineral Springs in the afternoon 1-4pm
Each day we will begin at the studio with "check in" and our schedule that will be slightly open so we can co-create. Anyone joining is encouraged to offer a "workshop" or exploration in anything they'd like….and those will be optional added classes woven into our time together.
This will be a fun, organized and yet fluid time for us to connect, go a little deeper into some practices and to explore connection, dancing, healing, celebrating, downtime, and awareness.
For our dances and retreat its encouraged that you do what feels right for you regarding masks/distancing. Most are vaccinated here. It is NOT required and you won't have to show a "card". Please make responsible choices and don't come if you don't feel well or have a fever, wash hands, and we will have ample time to make any requests you need and space for you to stay apart from others and still be lovingly included.
How much? $500 includes workshops and dances, entry fee to the Warm Mineral Spring, surprises and our studio time. NOT INCLUDED are your hotel/airbnb/or camping options, air fare ( traveling into Tampa Florida may be best), car rental or uber, bodywork (we have a few spas as well if you want to get more variety of treatments), foods for pack lunches/snacks and dinners. There are also many beautiful places to visit like Selby Botanical Gardens, Ringling Museum of Art (Circus and more), and more beaches ( which are free and has amazing sunsets). These aren't included but you might consider them before or after the 5 days.
Airbnb have options where you could share house with others coming and have a wide range of prices as do hotels. Basic business hotels run $115 up, camping around $30 night or less.
HOW TO SIGN UP: This retreat is a first in a few years with the pandemic so we are asking folks to sign up by putting $100 down by March 30th . We need 10 people minimum to make it happen and are capping it at 20. It's first come first serve, your $100 down saves your spot and is fully refundable up till April 10th if we don't make our minimum. The rest of fee is due before April 10th or you may make arrangements with Kelly. It is possible to attend a day or two.
Send your questions to mbfdancer@aol.com
contact kelly with questions 941 928 8866 or mbfdancer@aol.com
Here is the link to PayPal or Venmo or Zelle for payment:
Venmo:
EcstaticDanceGlobalFamily@
Or Kelly Atkins@ Kelly-Atkins-25
Zelle: 941-928-8866
See less
This is a 5 day retreat starting sat April 16th and ending Wednesday April 20th . Each day approx 9-6pm with all kinds of dance workshops and contact improv workshops.
2924 hyde park st sarasota florida
Ecstatic Dance – 3 Simple Guidelines
1. We Dance without shoes (or: We Dance Barefoot)
This allows us to connect more fully with the Ground (socks are OK)
If you have a physical condition that you need dance shoes, then OK
2. We Dance without words (or: We Dance with Body Language)
This makes it easier to be in a Meditative State
No Verbal Instruction from the Facilitators
No Talking from the Dancers
3. We Dance as We Are
No Drugs/Alcohol, No Phones, No Camera/Video, No Scents, No Expectations, No Judgements, No Shoulds, No Oughts… Just Be Yourself; With Respect for Ourselves, the Space, and One Another.