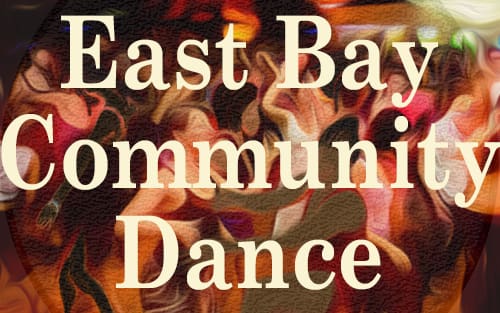 https://www.facebook.com/groups/858427771748007
This is an indoor dance event sponsored by EBCS and produced by Dan Zemelman (DJ DZ). East Bay Community Dance occurs every Tuesday from 7-9:30pm. All are welcome (vaxed or unvaxed)!
We simply ask that you respect our rules:
1) No talking on the dance floor
2) No shoes on the dance floor (medical reasons exempt)
3) Respect each others' boundaries and receive consent before engaging with others
Doors open at 7:00pm for warmup and the main set is from 7:30-9:30pm.
Tickets are $21 to $23 pre-sale (or cash/PayPal/Venmo at the door)
**There is limited capacity at EBCS, so we recommend that you get advance tickets!
We look forward to dancing with you!
Dan and David
____________________________________________
Guidelines
· EBCD will continue.
We will hold East Bay Community Dance every Tuesday as long as conditions don't worsen significantly and Alameda County doesn't change its regulations and guidance.
· Events are Potentially Risky.
We believe everyone attending should be aware that large gatherings like EBCD are not without risk. Attendance is a choice. Mask-wearing is optional, but encouraged if it helps you to feel safer.
· Refunds
If you don't think you are going to be able to come, please don't buy a ticket! We don't offer refunds except in very extreme circumstances. It is possible to sell your ticket on the Facebook event page usually.
· Stay Home if You're Even Slightly Sick.
Please do not attend EBCD if you have any symptoms that could be related to Covid-19, including cough, runny nose, congestion, fever, chills.
507 55th Street, Oakland, California, 94609
Ecstatic Dance – 3 Simple Guidelines
1. We Dance without shoes (or: We Dance Barefoot)
This allows us to connect more fully with the Ground (socks are OK)
If you have a physical condition that you need dance shoes, then OK
2. We Dance without words (or: We Dance with Body Language)
This makes it easier to be in a Meditative State
No Verbal Instruction from the Facilitators
No Talking from the Dancers
3. We Dance as We Are
No Drugs/Alcohol, No Phones, No Camera/Video, No Scents, No Expectations, No Judgements, No Shoulds, No Oughts… Just Be Yourself; With Respect for Ourselves, the Space, and One Another.